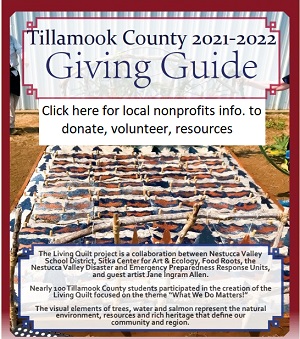 By Gordon McCraw, Meteorologist for the Tillamook County Pioneer
Tuesday, July 12, 2022, 09:15am
An increased onshore flow pushing in the cooler marine will give us a cooler day today. The change is being assisted by an upper level trough of low pressure drifting down the coast of British Columbia. This will continue to enhance the marine layer tonight thru tomorrow. So, today, look for mostly sunny skies to return, winds becoming westerly 14-18 gusting to 30, highs a cooler 71 this afternoon. The marine clouds pour in tonight, still breezy but easing late, lows near 54.
The trough slides eastward tomorrow, and we see partly sunny skies, winds becoming northwesterly 10-15 gusting to 20, highs near 70, becoming partly cloudy tomorrow night, the winds diminish, lows near 51.
Conditions improve Thursday with mostly sunny skies, winds becoming northwesterly 5-10, the high near 71, then mostly clear skies Thursday night, lows near 53. After that the models are mixed, but it appears we see high pressure building to our east and a trough of low pressure off to our west and this picture changes very little thru the weekend and into the start of next week. The only variable is the marine stratus, if it pushes in, and how far if it does, and for how long will it stay.
So, Friday, sunny and 72 but the weekend on into Monday likely partly sunny and around 70, partly to mostly cloudy nights, lows near 55.