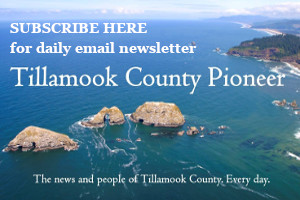 By Gordon McCraw, Meteorologist for the Tillamook County Pioneer
Wednesday, July 13, 2022, 10:30am
The enhanced onshore flow will help keep things on the "nice" side today. There is a trough of low pressure to the north, but this will do little as it pushes off to the north today. This all to say we can expect another sunny, breezy day with winds becoming northwesterly 10-15 gusting to 20, the high near 72.  We can expect mostly clear skies tonight, maybe some patchy fog late, light winds, lows near 49.
Tomorrow not a lot of change for our area though there is a low pressure area to the southwest, it is a dry system and has minimal affect along the coast so tomorrow also looks sunny with winds becoming westerly 8-12 gusting to 18, the high near 73, mostly clear skies tonight and we could see that patchy fog again with the light winds, lows near 52.
Even with a front somewhat stalled off the coast to the north, we see another mostly sunny day Friday, winds becoming westerly 5-10, the high near 71 then mostly cloudy skies that night, lows near 56.
As for the weekend, it looks like we have a ridge building to the east and a trough off to the west with us stuck in the middle enjoying the summer like weather. The trough will give us partly sunny skies Saturday, the high near 71, then back comes the mostly clear night with slightly cooler temperatures, the low near 53.  Sunday looks mostly sunny and 70, the low near 52.
Monday and Tuesday, we continue with the beautiful weather, sunny skies, highs near 73, with mostly clear nights, lows near 54.