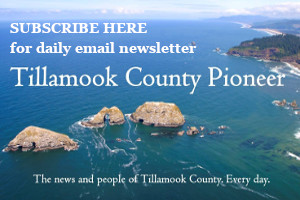 By Gordon McCraw, Meteorologist for the Tillamook County Pioneer
Thursday, July 14, 2022, 10:00am
And here we are stuck in the middle, we have a trough of low pressure off to the northwest and a ridge of high pressure off to the southeast. We do see a dry low pressure area just west of northern California that does little in our area so look for another sunny, breezy day today after the marine clouds burn off. Winds becoming westerly 10-15 gusting to 20 this afternoon, and the high up near 70. We see partly cloudy skies tonight, the winds ease, lows near 51.
Tomorrow looks about the same, maybe not as breezy as the low pressure area that was to our southwest exits the area, so, a mostly sunny say expected tomorrow, winds becoming northwesterly 5-10, the high near 70. The trough to the northwest drops down towards the area and pushes a weak front through the area Friday night into Saturday morning and this gives us a slight chance of light rain or drizzle after midnight tomorrow night, calm winds, lows near 57.
Saturday starts out cloudy with a slight chance of light rain or drizzle until around noon, also some patchy morning fog is possible, winds becoming northwesterly 5-10, highs still near 70, then mostly clear skies return Saturday night, calm winds, lows near 53. You're stuck with the same again on Sunday, highs near 71, lows near 52.
Monday the ridge that was off to our southeast builds closer to the area which pushes the temperatures up a few degrees so next week looks sunny and 73 Monday, then mostly sunny and 74 Tuesday, and still mostly sunny and 72 Wednesday.
I should mention, the models are quite mixed by Wednesday, and some show another trough and another low pressure area developing Wednesday on, but, to far out to commit one way or the other. For now, summer continues….