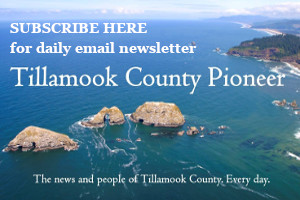 Wednesday, July 27, 2022, 08:15am
It looks like we have a couple more days of this high pressure ridge and its associated weather before we see a pattern change. This means if you like this week's weather so far, you are in luck, not much changes thru Friday, morning clouds and fog followed by afternoon sun. Fortunately for the coast, you continue to have a weak onshore flow that is keeping you as much as 30 degrees cooler than us in the valley. Yesterday's high temperatures include 70 in Tillamook, 68 in Astoria, and here in Lebanon, we peaked out at 99.7 putting us officially at 100 degrees for the high. Yesterday's record highs included Portland at 102 and Vancouver at 101, beating their previous record of 100 set in 2020. Salem tied their 103 record set in 1939 and Eugene tied their 102 record set in 1998.
So, the official forecast for the Tillamook area today, obviously we start our cloudy, foggy, and misty but slowly clear again today. Winds becoming westerly 4-8 and the afternoon high around 73. The clouds and patchy fog return tonight with the calm winds, the low near 57.
Tomorrow morning starts the same as today and the area becomes sunny again in the afternoon, winds still westerly 4-8, the high tomorrow a little warmer, near 75, then the clouds and patchy fog returns tomorrow night, calm winds again, lows near 58.
Friday looks the warmest for the coast with Tillamook hitting near 77 under mostly sunny skies and little morning stratus, still the westerly afternoon winds 4-8. We get the hint of change that night with some partly cloudy skies, calm winds still, lows near 57.
Most of the models show the ridge hanging on into Saturday now so we go with mostly sunny skies Saturday, the high near 76, partly cloudy again that night, lows near 57 still.
Sunday the ridge weakens and starts to slide eastward as a trough of low pressure moves in and a cooldown starts. Sunday's forecast is for partly sunny skies, the high near 72 then mostly sunny skies that night, lows near 57.
Monday and Tuesday look partly sunny and 69, mostly cloudy both nights, lows near 54.
The Heat Advisories, Watches and Warning have all been extended for the valley region until 9pm Saturday as it looks like the high temperature there hang on thru Saturday also. There is a chance though, that the temperatures will only reach the low 90s there Saturday. We will watch the models to see get a better handle on this though.