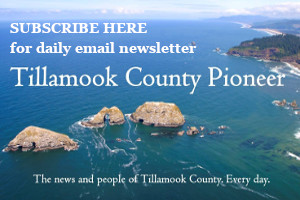 EDITOR'S NOTE: For our subscribers, we've updated the "Update" – so you'll get a timely forecast. Gordon has adjusted the forecast, so you'll get the evening forecast followed by what's up for tomorrow and the following days. Did you know you can subscribe to the Pioneer? Here's a link to subscribe – https://www.tillamookcountypioneer.net/xscripts/register.php then you'll get Gordon's Update and lots more news you can use in your email every evening at 8 pm.
By Gordon McCraw, Meteorologist for the Tillamook County Pioneer
Thursday, July 28, 2022
I hate to sound like a broken record, but there is little change expected in the weather thru tomorrow into Saturday, the coast will be cooler, the interior – still hot! The coast will still enjoy nature's air conditioning, but unlike yesterday, the valley will likely see some 100s, again!
This evening's weather, the clouds return along with that patchy morning fog, winds decreasing again also, overnight lows near 58. The clouds and fog slowly burn back, and we become sunny again in the afternoon tomorrow, winds becoming westerly 5-10, the high tomorrow near 72, a little warmer as you head inland. Not as much cloudiness tomorrow night, calm winds again, lows near 57.
We stay mostly sunny Saturday, winds becoming northwesterly 5-10, the high up near 77, partly cloudy skies for Saturday night, some patchy fog possible with the calm winds, lows near 56.
Sunday, we start to see a pattern change in most of the models as a trough of low pressure slowly moves in, pushing the ridge off to the east. This change will bring us partly sunny skies Sunday, the high near 73, and partly cloudy nights, lows near 57. The valley will finally start to see some cooling, but this is not a given as some of the models still hold the transition off past Sunday. The National Weather Service will be closely monitoring the models to see if they need to extend the Heat Advisories and Warnings in the Coast Range eastward.
As for next week, Monday looks mostly cloudy and only up to 69, lows near 54. With the trough moving across, Tuesday there is a slight chance of a shower or two under partly sunny skies, the high near 68, partly cloudy that night, lows near 52. Wednesday looks partly sunny and 69.