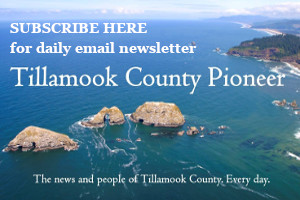 By Gordon McCraw, Meteorologist for the Tillamook County Pioneer
Monday, August 1, 2022
A somewhat complicated weather picture today. We have the high pressure ridge axis just to the east, then a low pressure area meandering west of Northern California while a trough of low pressure is dropping south near Vancouver Island. What all this means is we were a little cooler today with a few more clouds around. Additionally, the southerly flow has pushed up quite a bit of upper level smoke from the northern California fire. This gives us a partly sunny, hazy evening, diminishing winds, then a mostly cloudy night with light northerly winds, lows near 55.
Tomorrow the northerly trough drops thru the area which helps to push the California low further south and weaken the ridge which also moves a little southeastward. This brings a mostly cloudy morning tomorrow, then a partly to mostly sunny, hazy day tomorrow with winds becoming northwesterly 5-10, the high near 71, increasing clouds tomorrow night, calm winds, lows near 52.
Wednesday a similar picture sets up with another trough approaching from the north, so we see another mostly sunny day with winds becoming westerly 5-10, the high near 69, back come the clouds Wednesday night, calm winds, lows near 54.
Thursday that trough swings across so we only have a partly sunny day, the high near 69, then a partly cloudy night, lows near 51. After this the models show the ridge building back up into our area so Friday on thru the weekend. So, Friday on into the weekend looks mostly sunny, warming a few degrees each day, hitting 75 by Sunday, the lows also warm a few degrees, hitting 56 by Sunday night.
The usual disclaimer though, this far out, the models are a little mixed on just how strong the ridge will build back in which affects just how warm things will be. It could mean another hot one for the valley, or not! To soon to tell…