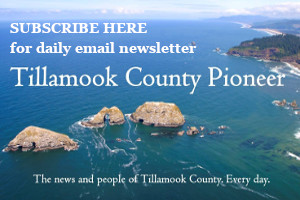 By Gordon McCraw, Meteorologist for the Tillamook County Pioneer
Monday, August 15, 2022
The ridge of high pressure continues to build in over the area and will bring us a warmer day tomorrow but several hot days in the valley.
So, tonight we see increasing clouds with some patchy fog possible after the winds die off, lows near 55.
Tomorrow we see mostly sunny skies we see a mostly sunny day with breezy westerly winds 10-15 gusting to 20, the high near 74, mostly clear skies tomorrow night, light winds, lows near 56.
Wednesday is our hottest day, still with the mostly sunny skies with winds becoming northwesterly 5-10, the high climbs up to near 78. In comes the clouds Wednesday night, lows near 59.
The ridge weakens some Thursday so not as much clearing, the high near 74, the marine clouds return that night, lows near 58.
It looks like the heat wave axis will continue to shift eastward Friday and with a disturbance lifting northward off the northern California Coast, the onshore flow is enhanced which pushes in the marine layer at night. This means Friday on thru the weekend looks partly sunny with highs in the low to mid 70s, mostly cloudy nights still, lows around the mid 50s.