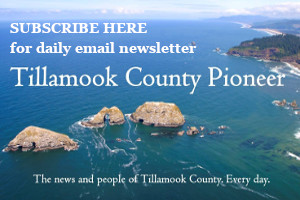 By Gordon McCraw, Meteorologist for the Tillamook County Pioneer
Wednesday, August 17, 2022
Hot weather expected again tomorrow thanks to the high pressure ridge building over the area. Today was warm along the coast but nature's air conditioning kept the coastal temperatures moderated, especially compared to the valley. There is also a low pressure area off the coast of Oregon that is moving northward and brings us a slight chance of a shower later tonight under mostly cloudy skies with light northerly winds. The low tonight only falls to around 60.
With the low still influencing the area, the slight shower chance remains tomorrow morning with some patchy fog possible again then a partly sunny afternoon, the winds becoming northwesterly 5-10, highs up near 76. With the marine layer thickened tomorrow night from an increased onshore flow, some patchy light drizzle is possible after midnight with light winds, and the low down to near 59.
The fog and drizzle clear late morning Friday leaving a mostly cloudy day, winds westerly 5-10, highs a little cooler at 70. The clouds and a fog chance return that night, the low a little cooler also, down around 55.
The weekend weather looks to be influenced by another low pressure area moving over or near our area. Saturday still looks mostly sunny and 73, but Sunday looks mostly cloudy and 72. The lows influence may also thicken the marine layer enough to see some patchy drizzle Sunday night into early Monday morning, the lows near 55. Monday looks partly sunny and 73 then Tuesday mostly sunny and 73 again.
The National Weather Service Portland says it is still too early to nail down but some of the models show a chance the heat could return again later next week.