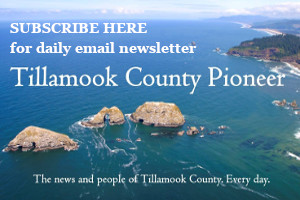 By Gordon McCraw, Meteorologist for the Tillamook County Pioneer
Tuesday, August 2, 2022
A look at the weather-map shows the heat is subsiding as there are very few Advisories, Watches or Warning remaining. We also see the upper level smoke that plagued us the past few days is pushing south and east. This is all thanks to a trough of low pressure dropping down from the northwest which is flattening the ridge of high pressure that has heated us up for the past week. It did enhance the onshore flow last night that helped to push some of the cooler marine air into the valley area, helping to cool them down today. So, all this means that, for us, tonight we should see partly cloudy skies with calm winds, the low down around 52.
Tomorrow not much changes so we can expect mostly sunny skies with winds becoming westerly 8-12 gusting to 20, highs near 69. Tomorrow night the approaching trough gives us increasing clouds, the winds slowly diminish, lows near 55.
Thursday, with the trough moving across, we see partly sunny skies, the winds becoming northwesterly 5-10, highs near 68, then mostly clear skies Thursday night, lows near 51.
Friday on we still ponder on how much we warm up again, which depends on how strong the ridge builds back in, and where! The models continue to give us mixed signals, but it does look like we see another warmup, just not as strong as the last heatwave. So, Friday looks sunny and 71, then Saturday and Sunday sunny and 75.
Given the above, the valley will see another period of high temperatures in the low to mid 90s this weekend.