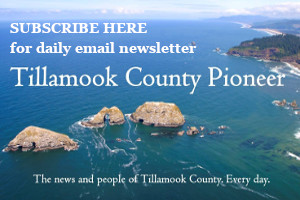 By Gordon McCraw, Meteorologist for the Tillamook County Pioneer
Wednesday, August 24, 2022
Today was the first of a couple of warmer days for the region. This is the result of another high pressure ridge building into the area from the west. As has been the case the last couple of heat waves, the coast enjoys a cooler onshore flow that moderates the heat and holds the high down in the 70s while the valley heats up into the 90s.
So, tonight we see the marine clouds returning along with some patchy fog with calm winds, the low near 58.
Tomorrow the morning patchy fog clears, then the clouds slowly burn off leaving sunny afternoon skies, winds becoming northwesterly 5-10, highs again up near 74. The ridge moves further east tomorrow night, we see the clouds and patchy fog return with the light winds, lows near 57.
By Friday, a low pressure area develops to the northwest and drifts southward along the coast which flattens the ridge and enhances the onshore flow and the marine push. So, Friday morning the patchy fog clears, the clouds are slower to burn back, and we are left with mostly cloudy skies and with daytime heating and the moisture, there is a slight chance of some light rain or drizzle around the area. The winds Friday becoming northwesterly 5-10, high down around 69. The slight chance of light rain or drizzle remains Friday night, light winds, lows near 56.
Saturday morning the low pushes inland around northern Oregon so the light rain chance remains thru the morning hours under mostly cloudy skies, the high only near 67, the clouds remain Saturday night, lows near 54.
Sunday the ridge begins to build again which starts to warm things up once more, under partly sunny skies the high is up near 70 again, then with partly cloudy skies Sunday night, the low still around 54.
The start of next week see mostly sunny skies with highs up in the mid 70s, and with partly cloudy nights under the high pressure, nighttime lows near 57.
Hang in there folks, fall is about one month away.