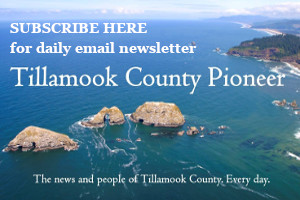 By Gordon McCraw, Meteorologist for the Tillamook County Pioneer
Thursday, August 25, 2022
Another standard summer night with increasing clouds along with some patchy early morning fog after the winds die down. The low tonight near 56.
Tomorrow an upper level low pressure area drops down from the Gulf of Alaska and flattens the ridge that gave us the warmer temperatures the last couple of days. This also increases the onshore flow which makes the marine clouds linger longer tomorrow so look for mostly cloudy skies with the low level winds becoming westerly 5-10, the high only near 56.
The marine clouds push in again tomorrow night and with the flow associated around the low to the northwest near Vancouver Island, the marine layer thickens and brings a chance of some light rain or drizzle tomorrow night after around midnight. We will see light northerly winds and the low tomorrow night around 56.
Look for mostly cloudy skies to continue Saturday, still a slight chance of some light spotty rain or drizzle, winds becoming northwesterly 8-12 in the afternoon, highs only to near 67, then a mostly cloudy but dry night, lows near 54.
Sunday the low to our north pushes inland as the high pressure ridge starts to build back in and we see partly sunny skies, the high around 68, a partly cloudy night expected, lows near 54.
As for next week, the models are still a little mixed on how to handle the ridge and another low pressure area dropping southward from the Gulf of Alaska along with the timing on the associated trough off our coast, but for now we go with Monday and Tuesday being mostly sunny and 74, a partly cloudy night Monday but add some clouds Tuesday night. It appears that by Wednesday the ridge starts to weaken so mostly sunny and 72.