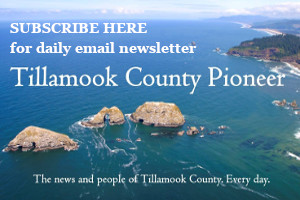 By Gordon McCraw, Meteorologist for the Tillamook County Pioneer
Thursday, September 1, 2022
No real change in the pattern yet so we saw the usual morning stratus that burned back today, and the patchy fog and stratus will return tonight. The winds diminish again this evening, the low near 55.
Tomorrow, we watch a low pressure system moving toward the area from west that flattens the ridge and this will cause the clouds to hang around longer so we see partly sunny skies with the winds westerly 5-10, the high only near 68. The low pressure area nears the coast tomorrow night so we have a slight chance of some light rain under cloudy skies, the winds diminish, lows near 57.
The low pressure area crosses the area Saturday morning so we keep the slight rain chance until around noon with partly sunny skies, winds becoming westerly 5-10, highs back up to near 72. The ridge rebounds Saturday night so we see partly cloudy skies, the low near 56.
Sunday on the ridge dominates the weather pattern again so Sunday looks mostly sunny and 71, the marine clouds return Sunday night, lows near 56.
The Labor Day weather looks the same with the skies becoming mostly sunny and the high near 71 but with mostly clear skies Monday night, the lows near 51.
The "Back-To-Work" forecast, Sunny skies Tuesday but the ridge shifts east some so the high temperatures only around 69, back comes the clouds that night, lows near 50.
The extended models seem to suggest a pattern change starting the middle of next week, still not real clear just yet and still pretty far out but we will go with partly sunny skies and the low near 67.