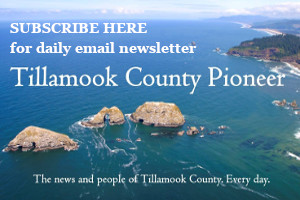 By Gordon McCraw, Meteorologist for the Tillamook County Pioneer
Tuesday, August 30, 2022
Weather
The short lived heat wave, where we reached 81 yesterday, will again be present today though with an increased onshore flow today, the high temperatures were a little lower than yesterday for most people along the coast. The temperatures were more elevated over in the valley though. Tonight, we can expect partly cloudy skies, but we will see some haze from the wildfire smoke blowing up over the area in the upper levels, the surface winds diminish, lows tonight near 56.
A disturbance moving across early tomorrow will enhance and thicken the marine layer and clouds and possibly squeeze out some morning mist or drizzle. So, we start out cloudy with patchy fog and drizzle, slowly becoming mostly sunny in the afternoon, winds westerly 5-10, highs only up to near 70. The clouds return tomorrow night, calm winds, lows near 54.
Thursday looks partly sunny with the winds becoming westerly 5-10, highs a little warmer at 74, then partly cloudy skies Thursday night, calm winds, lows near 56.
Friday the models are a little mixed, but it looks like a disturbance or two try to put a dent in the ridge and that would give us some patchy drizzle Friday night into Saturday morning, highs near 71, lows near 54.
We see partly sunny Sunday, the high near 70, mostly cloudy that night, lows near 55.
And for Labor Day Monday, get ready Tillamook, mostly sunny with the high a comfortable 72 (the Portland area in the mid 80s)!
What is Labor Day?
Labor Day is called by many, "The official end of summer!" For many of the kids it marks the last weekend before school starts.
Labor Day is a holiday that most of the world celebrates on May 1st each year, celebrating the coming of spring and the Labor movement together in one day. The date for the global date was based on the Haymarket affair which occurred in Chicago on May 4, 1886, a conflict between the police and workers where 8 people were killed. For many countries in the Northern Hemisphere May Day is also on May 1. For us, Labor Day became a Federal Holiday in 1894 though by that time 30 states were already observing the holiday.
By-the-way, Oregon was the first state in the U.S. to officially celebrate Labor Day.