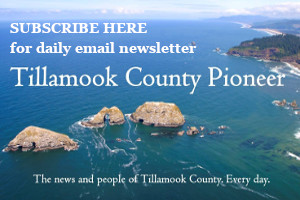 By Gordon McCraw, Meteorologist for the Tillamook County Pioneer
Thursday, September 15, 2022
Weather
A large upper level trough remains over the Pacific Northwest and so we see little change is the day-to-day weather.  This means we can expect the marine clouds again tonight, calm winds and the low down near 54.
Tomorrow, we see an upper level low pressure area dropping south along the British Columbia coast and an associated weak cold front that moves into the area tomorrow morning giving us a chance of morning drizzle tomorrow, then a chance of showers in the afternoon.  Winds tomorrow becoming westerly 4-8, the high near 63. Tomorrow night the low pushes east over British Columbia as another trough develops off the west coast. This brings another slight chance of showers tomorrow night, otherwise cloudy with patchy fog, with calm winds, the low near 47.
It appears we see a better chance of showers Saturday morning under cloudy skies as another low pressure area drops southward off the coast that also brings more clouds, westerly winds 5-10, and highs near 61. The low continues to move south of the area Saturday night leaving mostly cloudy skies and a low near 47.
Sunday the low is centered somewhere near the northern California coast as we see mostly sunny skies, the high temperatures moving up again, near 66 and with mostly clear skies that night, lows near 48.
The models are a little mixed on the start of next week but for us it looks like we return to fair, dry, and mild conditions with mostly sunny skies, the highs near 68, and partly cloudy nights, lows near 48 thru Wednesday.
National Preparedness Month – Plan for Your Pets
Earlier, while discussing getting prepared for a disaster and having a Disaster Kit, I mentioned also to include your pets in your planning. When doing your planning you should think about a place that you and your pets can evacuate to. If local officials ask you to evacuate, that means your pet should evacuate too. If you leave your pet behind, they may end up lost, injured, or worse.
Thing you should include in your plan related to your pets:
Have an evacuation plan for your pet. Many shelters and hotels do not allow pets. Know a safe place where you can take your pets BEFORE disasters and emergencies happen.
Develop a buddy system. Plan with neighbor, friends, or relatives to make sure that someone is available to care for your pets if you are unable to do so.
Have a pet microchipped. Make sure to keep your address and phone number up-to-date and include contact information for an emergency contact outside of your immediate area.
Contact your local emergency management office, animal shelter or animal control office to get additional advice and information if you are unsure how to care for your pet in case of an emergency.
Just as you do with your family emergency supply kit, build one for your pet as well.
Tips for Large Animals
Ensure all animals have some form of identification.
Evacuate animals earlier, whenever possible. Map out primary and secondary routes in advance.
Make available vehicles and trailers needed for transporting and supporting each type of animal. Also make available experienced handlers and drivers.
Ensure destinations have food, water, veterinary care, and handling equipment.
If evacuation is not possible, animal owners must decide whether to move large animals to a barn or turn them loose outside.