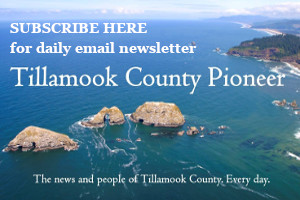 By Gordon McCraw, Meteorologist for the Tillamook County Pioneer
Tuesday, August 9, 2022
Weather
We are still talking about that pesty upper level low pressure area that sat off of northern California all of last week. The southerly flow over the area today, associated with the low, caused some showers and thunderstorms over the Cascades. As the low finally starts to move northward and passes to our west tonight, we are likely to see scattered showers here, and there is a slight chance of thunderstorms as well. So, the official forecast is for increasing clouds with scattered showers likely with a slight chance of thunderstorms after midnight. Winds tonight becoming light and variable, the low near 55.
The low continues to move northward tomorrow so the thunderstorm threat ends by midmorning then the scattered shower threat ends late morning. We see a return of mostly sunny skies tomorrow afternoon, winds becoming southwesterly 5-10, the high near 66. Tomorrow night the onshore flow returns and so does the marine clouds so increasing clouds tomorrow night, winds southwesterly 5-10 gusting to 18, the low near 53.
Thursday, the low pressure area is pretty much stationary off the Washington coast, this leaves us under a southwesterly flow and we likely return to more normal summertime weather. This means we can expect mostly sunny skies Thursday and Friday with afternoon winds becoming westerly 5-10, highs near 69, and partly cloudy nights, lows near 53.
By Saturday the low is up near the British Columbia coast and a ridge of high pressure starts to build to our west. For our weekend weather we see a partly sunny day Saturday, the high near 70, and a mostly sunny day Sunday and Monday, highs up near 72. Still the partly cloudy nights, lows near 53.
Fire, Smoke, Pollen
The Tillamook area Air Quality is good with the AQI at 4. A check on the pollen says you are good there also.
A look at the State's Fire Dashboard says there are 22 Active Fires with the largest being the Miller Road Fire in Lane County. It has burned 10,847 Acres and is now 98% contained. It destroyed 6 residences and 34 other structures, luckily no deaths.
They will be watching the results of all the thunderstorms with lightening occurring the next couple days.