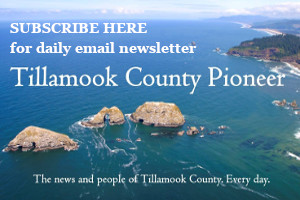 By Gordon McCraw, Meteorologist for the Tillamook County Pioneer
Monday, October 3, 2022
Weather
Well, this first forecast for October sounds more like a Summer forecast than a Fall forecast. The marine clouds pushed well inland last night and with a weak disturbance moving in tonight we see stronger onshore flow and a thicker marine layer so cloudy skies tonight, the surface winds diminish, low near 50.
Thanks to the disturbance, and the flow, tomorrow we stay mostly cloudy with the afternoon winds becoming westerly 4-8, the high near 66, the marine clouds thicken again tomorrow night, the winds diminish, lows near 51.
The ridge builds again Wednesday so we see partly sunny skies, the winds becoming northwesterly 5-10 gusting to 20, highs near 69 then partly cloudy skies Wednesday night, lows near 52.
After this, the ridge slowly shifts east and we see fair, dry and mild conditions settling in so, partly sunny skies Thursday with highs up near 71, mostly cloudy skies again Thursday night, lows near 52.
Friday also looks partly sunny, the high up near 70 again with a partly cloudy night, the low near 53. Then, another pleasant weekend in store with the high pressure ridge still parked over the area. we'll see mostly sunny days, the highs near 71, and partly cloudy nights, lows near 52.
Fun Fact!
Did you know that German Chocolate Cake did not come from Germany? It was actually named after a person, Sam German, who created a type of baking chocolate, for Baker's, back in 1852.