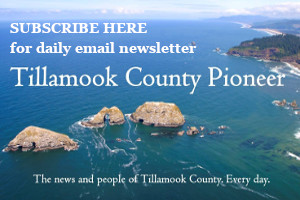 By Gordon McCraw, Meteorologist for the Tillamook County Pioneer
Thursday, October 6, 2022
Weather
Still not much change is expected with the high pressure ridge still over the area. We started out this morning the same with the usual cloudy and foggy start and it looks like we will see it all again tonight with calm winds again, the low near 52.
So, tomorrow we start out with the usual clouds and fog then it will slowly burn back to or near the coast leaving a mostly sunny afternoon with the winds becoming westerly 4-8, the high near 66.
The weekend is still looking like we see improving conditions as the ridge of high pressure drifts west over our area. We can expect mostly sunny skies Saturday and Sunday with northwesterly winds 4-8, the highs near 70, with partly cloudy nights and calm winds, lows near 52.
Many of the models show a trough of low pressure dropping southeastward into Washington by Monday. There is a chance this could bring us cooler and wetter weather for Columbus Day. The official forecast is for mostly cloudy skies Monday with a slight chance of showers from around Monday afternoon thru near midnight. The high only near 62, lows near 49.
After this, the ridge strengthens again and we see mostly sunny skies Tuesday, the high still only near 62, the low, with mostly clear nighttime skies, will have a fall feel to it with the low down near 47.
Wednesday looks a little better with sunny skies and the high back up to near 66.
Fun Fact
Did you know that the Eiffel Tower can be 15cm taller in the summer? That's because the summer heat causes the iron to heat up and expand.