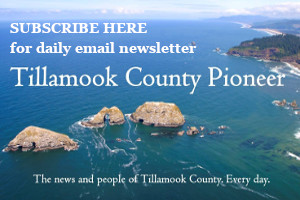 By Gordon McCraw, Meteorologist for the Tillamook County Pioneer
Friday, September 23, 2022
Weather
The mornings have a "Fall" feel to them with the temperatures on the cool side, especially when there are no clouds. This morning's low was around 48. Tonight, should not be as cool as the marine clouds push in and hold some of the heat so look for mostly cloudy to cloudy skies tonight with calm winds, some patchy morning fog possible, the low near 53.
Tomorrow high pressure builds in and we see mostly sunny skies develop, winds becoming westerly 10-15 gusting to 20, highs near 74. Tomorrow night we see partly cloudy skies, light winds, some patchy fog possible, lows back down to near 47.
We can expect mostly sunny skies Sunday and Monday, afternoon winds becoming westerly 5-10, highs near 74. Sunday night is partly cloudy and 49 but Monday night the marine clouds return along with the patchy fog and mist, lows again near 49.
A weak low pressure area off the coast will help to give us an increased onshore flow resulting in partly sunny skies Tuesday, after the patchy fog clears, the high up near 69, then an approaching weak front gives us a chance of showers Tuesday night with mostly cloudy skies, lows near 50.
The chance of showers persists into Wednesday, still with the mostly cloudy skies, highs near 66, the shower chance eases Wednesday night, patchy fog possible late, lows near 53.
Thursday looks partly sunny, dry, and 66.
National Preparedness Month
A quick reminder as we approach our flood season. Here are the National Weather Service Flood advisories and their meanings:
Flood Advisory – A Flood Advisory is issued when flooding that is not considered a significant threat to life or property is expected or occurring. This usually deals with nuisance flooding problems, such as flooding in low-lying areas and areas of poor drainage, as well as minor flooding of streets and roadways. This type of flooding causes some inconvenience but is not generally considered a significant threat to life or property.
Flood Advisories are normally issued as an Urban and Small Stream Flood Advisory.
Flood Watch – A Flood Watch is issued when flooding is possible. You should stay tuned to trusted news sources and be ready to seek higher ground. Be Prepared!
Flood Warning – A Flood Warning is issued when flooding is happening or about to happen. Move to higher ground immediately! Never drive or walk through floodwaters. Take Action!
Remember the NWS Motto…Turn Around, Don't Drown