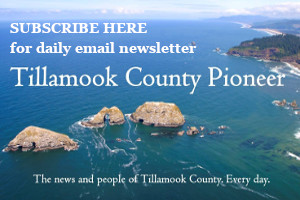 By Gordon McCraw, Meteorologist for Tillamook County Pioneer
Monday, October 10, 2022
Weather
Someone asked me the other day why the Tillamook area has had so many consecutive days with dense morning fog. The answer is simple really:  the weather pattern has changed very little the last couple weeks, so you get a repeat of the weather each day, kind of like the movie Ground Hog Day, the weather keeps repeating itself each day. We have had high pressure over the area with some strong coastal upwelling of the ocean causing marine stratus that pushes in with the onshore flow, that settles down to the surface as the air cools at night…is the synoptic simple answer. About the only brief change is when a disturbance pushes thru, weakening the ridge and either increases the wind and brings a chance of light rain, or both.
So, we are having just such an event this evening with a weak trough of low pressure passing to the north into Canada that is flattening the ridge and dragging a weak front across the area, bringing a chance of patchy fog and drizzle starting around midnight. The northwesterly winds will diminish tonight, the low near 47.
The system will move through in the early morning hours and the ridge quickly builds back in, but we continue to see the cooler temperatures so tomorrow looks sunny, the winds northerly 4-8, and the high only 64. Tomorrow night, with the calm winds and mostly clear skies the temperature drops to around 47.
Wednesday on the ridge builds more and we enjoy some fair, dry, and mild conditions yet again so back comes the sunny days Wednesday and Thursday, afternoon winds northerly 4-8, highs near 70, and mostly clear nights, lows near 50. And yep, some patchy morning fog is possible in some areas.
Friday and Saturday look mostly sunny and 70, partly cloudy nights, lows near 52.  Sunday pretty much the same but a little cooler at 67. Some of the models are hinting at another weak front possible later Monday.
This Day in History
Being the old, retired U.S. Navy guy, I will share that on this day in history, to improve the then-unsatisfactory way of instructing midshipmen at the time, Mr. George Bancroft, a historian, educator, and Secretary of the Navy, founded the U.S. Naval Academy in Annapolis Maryland, on this day in 1845.
At first the course was five years, of which only the first and last were spent at the school, the intervening three years being spent on board ships on active service. The school was reorganized in 1850–51 as the U.S. Naval Academy, with a course of study of four consecutive years. A summer practice cruise replaced the omitted sea service and permitted intensive training.