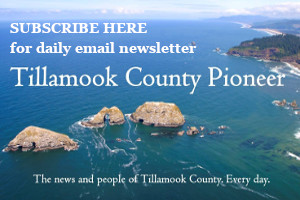 By Lt. Gordon McCraw, Director of Emergency Management,Tillamook County
Weather
An upper level trough of low pressure continues to sit just offshore, keeping us under a moist southwesterly flow that is resulting in us seeing scattered showers again today (Wednesday). With daytime heating and the fact that the trough will begin to move towards the northeast, we could even see an afternoon thunderstorm or two in the region. The winds today will increase to westerly 5-10 gusting to 20 thru this evening then diminish by tonight. The activity will also ease with the loss of heating tonight so there will only be a slight chance of showers overnight. High temperatures today near 62, lows tonight near 46.
Tomorrow (Thursday 6/10) the trough will have pushed to the east but we will also have another system approaching from the west, so we continue to have a chance of showers with easterly winds 8-12 gusting to 20 and a high near 63. The chance of showers eases this evening but then the rain moves in tonight ahead of an approaching front that could give the Coast Range up to ¼" of rain thru Friday when the front makes it through. Behind the front Friday we see the usual post-frontal showers into Saturday.
Also, on Saturday we see another trough of low pressure setting up off to the west that will again put us under a southwesterly flow meaning we have a chance of showers Saturday, Sunday, on into Monday and Tuesday. The only question is how many and how strong at this point. Afternoon temperature will also be a little higher over the weekend and into the start of next week, peeking at 67 for a high and 53 for a low.
Vaccine Availability
Today, June 9th, from 10am thru 6pm, the Tillamook Creamery invites all people, 18 and over, to a drive thru event at the Tillamook Creamery Red Barn by the Cheese Factory, for single dose Johnson and Johnson. An added incentive, while you wait the required 15 minute observation period, you will get a free Tillamook Ice Cream sandwich and two coupons for free scoops of ice cream at the Creamery. Please bring your photo ID and your health insurance card if you have one but it is not required.
On Friday, June 11th, from 12:30pm thru 5:30pm, the Nestucca Rural Fire District and the South County Emergency Volunteer Corps will be holding a Johnson and Johnson walk-in vaccine clinic at the Hebo Fire Station.
Pfizer and Johnson and Johnson walk-in clinics will be held each Tuesday from 8:30am thru 11:30am for all of June at the Tillamook Community Health Center, at the Annex Building beside their main clinic.
Moderna and Johnson and Johnson walk-in clinics will be held on Thursdays from 8:30am thru 11:30am for the month of June at the same location.
(Note: Moderna and Johnson and Johnson are only for individuals 18 and older)
Come get your shot to help protect yourself and your loved ones and friends. We are coming into the peak summertime tourist season, and we expect a larger influx of visitors to our area this year so your exposure chances will be increasing if you are unvaccinated. Our decreasing numbers as well as the decreasing hospitizations are proof that the vaccine is working. Add to this that it was reported last week that 98% of the hospitalizations and 94% of the deaths now are unvaccinated or partially vaccinated individuals, and the median age for these is lower, is more proof.
Final item, the state, as of 6/8/21, was at 67.1%, towards their 70% goal. Tillamook County as of Monday was at 62.8%, our goal 65%. That means the county needs about 480 more people to get their first shot and the state needs about 97,000 more people statewide to get the vaccine to reach the goals. The County's 65% goal locks us in the Low Risk Category regardless of case count. The State's 70% goal is where the Governor says she will do away with the Risk Level altogether.