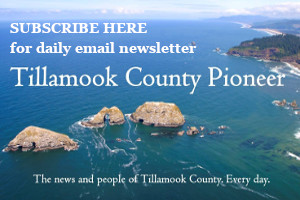 By Gordon McCraw, Meteorologist for the Tillamook County Pioneer
Friday, September 16, 2022
Weather
A trough of low pressure moved across, mainly to our north today, causing some light spotty precipitation in the area. We now watch a low pressure area that developed in the Gulf of Alaska that is diving down the coast tonight, causing mostly cloudy skies with a slight chance of showers.  We still see the calm winds and a low near 45.
This weekend we see a trough of low pressure off the coast as the low continues south and this would bring us cloudy conditions with a slight chance of showers tomorrow, afternoon winds becoming westerly 5-10, the high near 62.  Still cloudy with that slight chance of showers tomorrow night, calm winds, lows near 48.
The low should have dropped far enough south Sunday that conditions start to improve.  With partly sunny skies, winds becoming northwesterly 5-10, the high up near 68, then mostly clear skies Sunday night, lows near 49.
As for next week, the models are mixed and driven by what each model thinks that low to the southwest will do. Should the low go stationary near the Oregon/California border then southern Oregon could get some showers, or we could see a blocking high pressure ridge develop and this would give us mild days and cool nights for much, if not all, of next week.  Either way next week looks fair, dry, and mild for us.  Tillamook can expect sunny skies with highs in the upper 60s, and partly cloudy nights, lows near 50, for much of next week.
National Preparedness Month – Consider Individual Needs
Today we discuss individuals with disabilities.  Disability can be found in every demographic group—there are people with disabilities of all ages, races, genders or national origin, and disabilities can impact a person in a variety of ways—both visible and invisible. For people with disabilities and their families, it is important to consider individual circumstances and needs to effectively prepare for emergencies and disasters.
When making a plan as or with a disabled person, you should consider the following:
Create a support network of people who can help you in a disaster. Keep a contact list in a watertight container in your emergency kitor on your electronic devices.
Inform your support network where you keep your emergency supplies. You may want to consider giving a trusted member a key to your house or apartment.
Plan ahead for accessible transportation that you may need for evacuation or getting around during or after disaster. Check with local transit providers as well as with your emergency management agency to identify appropriate accessible options.
Many city and county emergency management agencies maintain voluntary registries for people with disabilities to self-identify in order to receive targeted assistance during emergencies and disasters. Contact your local emergency management office to find out more.
If you are on dialysis or other life-sustaining medical treatment know the location and availability of more than one facility that can help you.
If you use medical equipment in your home that requires electricity, talk to your doctor or health care provider about what you may be able to do to keep it running during a power outage. You can also ask your power provider to put you on a list for priority power restoration.
About half of all Americans take a prescription medicine every day. An emergency can make it difficult for them to refill their prescription or to find an open pharmacy. Organize and protect your prescriptions, over-the-counter drugs, and vitamins to prepare for an emergency.
Wear medical alert tags or bracelets. Also add pertinent medical information to your electronic devices.
If you have a communication disability, consider carrying printed cards or storing information on your devices to inform first responders and others how to communicate with you.
If you use assistive technologies, plan how you will evacuate with the devices or how you will replace equipment if lost or destroyed.
Locate and access your electronic health records from a variety of sources by using the U.S. Department of Health and Human Services' online tool.
Plan for children and adults who may have difficulty in unfamiliar or chaotic environments. Consider your service or support animal or pets and plan for food, water and supplies. If you need to evacuate, you'll need to know whether your shelter allows pets or not, since some shelters only allow service or support animals.
Keep a list of the nearest medical facilities, local hospitals and nearest transportation.