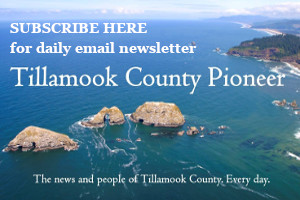 (Salem, OR) — In a press briefing with the Oregon Health Authority, Governor Kate Brown today announced Oregon's accelerated vaccination prioritization timelines. The Governor was joined by Patrick Allen, Oregon Health Authority (OHA) Director; Dr. Dean Sidelinger, State Epidemiologist; and Holden Leung, Chief Executive Officer of the Asian Health & Service Center.
"As vaccination efforts speed up, I want to thank Oregonians once again for making smart choices throughout this pandemic. Oregon continues to hold one of the lowest infection and mortality rates in the entire country. We have the fourth lowest infection rate since the start of the pandemic, and fifth lowest mortality rate. Your actions have saved lives," said Governor Brown. "As we open up eligibility to all Oregonians on May 1st, I remain committed to the equitable distribution of vaccines for our seniors, frontline workers, and Oregonians with underlying health conditions."
"The Oregon Health Authority tells me that, provided supplies come in from the federal government as anticipated, we expect to have enough doses for every Oregonian who wants a vaccine to have the opportunity for at least a first dose by the end of May. That makes me smile. I hope it does for you too. The future's looking brighter every day."
Starting March 22, counties that can attest to largely finishing vaccinations for Oregonians 65 and older can move to the next prioritization groups. No later than March 29, vaccinations may begin for Phase 1B, Group 6, which includes people aged 45 and older with underlying conditions and some groups most vulnerable to COVID-19. On April 19, vaccinations may begin for Phase 1B, Group 7, which includes all frontline workers and people with underlying conditions aged 16-44. On May 1, all Oregonians age 16 and older will be eligible for COVID-19 vaccination.
A full summary of Oregon's accelerated vaccination timelines: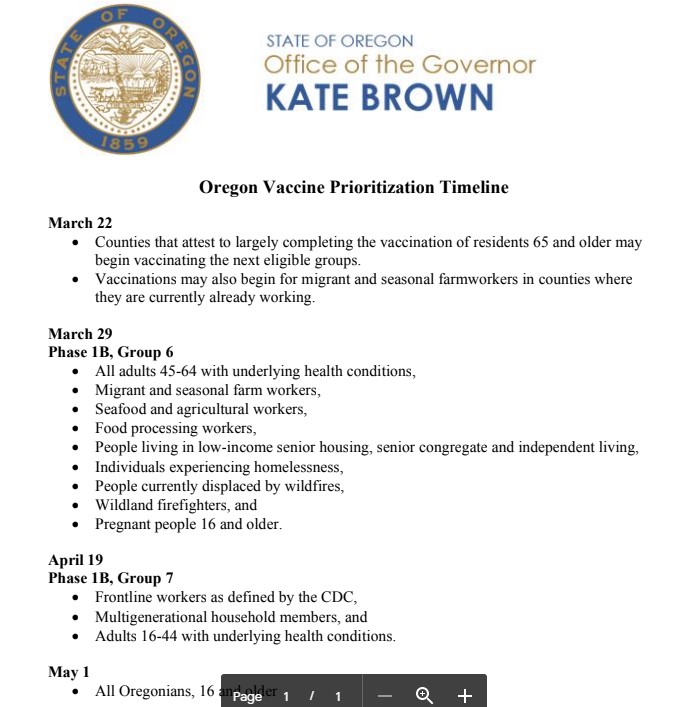 Video Links
A recording of 

today

's live-streamed press conference is available here. Please note the video starts at the 31:30 mark.
A recording of a Spanish language translation is available on OHA's Facebook page here. Please note the video starts at the 1:03 mark.
An HD recording of 

today

's press conference for members of the media is available here. Please note, the video starts at the 20:48 mark.
A copy of the Governor's prepared remarks from today's press conference is available here.
More information on vaccines is available at covidvaccine.oregon.gov.