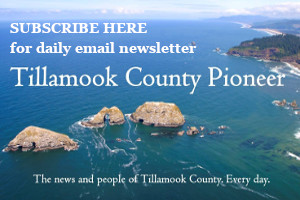 Oregon to receive 60,000 to 80,000 rapid tests per week from federal government
(Portland, OR) — Governor Kate Brown 

today

announced a plan to deploy a huge influx of rapid COVID-19 tests from the federal government. Oregon will be receiving 60,000 to 80,000 COVID-19 rapid tests per week until the end of the year. The Abbott BinaxNOW antigen tests can diagnose cases of COVID-19 in 15 minutes.
"With this increased testing capacity, we hope to be able to diagnose more people quickly so they can get the care they need," said Governor Brown. "We want to identify more cases of COVID-19 so we can also isolate and quarantine people, helping contain the virus.


"Testing is an excellent tool in giving us a more full picture of where the virus is hiding in our communities. Unfortunately it is not a cure-all or the solution to all of our problems.

"We cannot test our way out of this pandemic.

"Without all the other safety measures we continue to hammer home with you — the physical distancing, avoiding large gatherings, and wearing a mask — testing won't do anything to stop COVID-19 in our communities. The events at the White House this past week have only reinforced that. We must continue to stay the course to save lives."

The new tests will be deployed statewide, with a focus first on counties and long-term care facilities that have been affected by wildfire evacuations, putting vulnerable residents and staff at higher risk for COVID-19. Second, the tests will be deployed to outpatient and mobile COVID-19 testing locations, for symptomatic people and their close contacts, whether those contacts are showing symptoms.

Testing will also be prioritized for vulnerable communities, including:
People from communities that have been hardest hit and most disproportionately impacted by COVID-19, including migrant and seasonal agricultural workers, communities of color and tribal communities, and people living in congregate care settings.

People living in places most vulnerable to COVID-19 spread, such as congregate care or living facilities, Department of Corrections facilities, and other community testing locations.
In order to ensure safety for Oregon students, tests also will be distributed to school-based health centers and other health care partners working with K-12 schools, as well as colleges and universities, to support the testing of symptomatic students and staff, close contacts of cases, and to investigate outbreaks.
The Oregon Health Authority will maintain a strategic reserve of tests to address outbreaks beyond December, in the event the federal government runs low on testing supplies. Health experts have cautioned that antigen tests provide accurate positive results, but that they can produce false negatives for people with COVID-19.
A full transcript of Governor Brown's remarks is available here.
A recording of Governor Brown's press conference is available here.