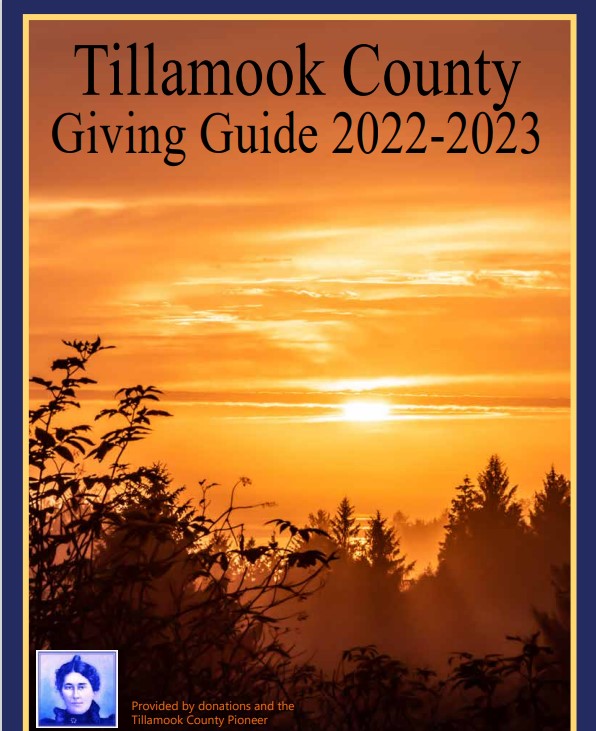 "Today, thanks to millions of Oregonians following the strict physical distancing orders I put in place, I am happy to say these sacrifices have prevented as many as 70,000 COVID-19 infections, and 1,500 hospitalizations in Oregon," said Governor Brown on May 7th. "We are on track in meeting the goals that doctors and public health experts have laid out for us. And that means we now have the opportunity to begin rebuilding a safe and strong Oregon."
Governor Kate Brown shared new details of her framework for rebuilding a safe and strong Oregon, including new guidance for counties and businesses on a phased reopening process. Governor Brown emphasized that by taking steps gradually and carefully, and following science and data, Oregon can begin to reopen safely.
The new guidance on reopening calls for the widespread use of face coverings, maintaining physical distance of six feet between individuals as much as possible, and following good hygiene and disinfection practices.
The Governor also announced that large gatherings such as conventions, festivals, and major concerts and live audience sporting events will need to be cancelled at least through September. Restarting events of this size will require a reliable treatment or prevention, like a vaccine, which is many months off. Further guidance on large events will be provided in the coming months.
Next week, updated safety guidelines regarding transit, certain childcare, summer school, and summer camps and youth programs will be issued.
You can read more details in the governor's press release or watch today's press conference.

Understanding the health signs we must see to reopen Oregon
Oregon will use a careful, step-by-step process to safely reopen our state based on clear public health criteria and signs our health care system is able to respond to a spike in new infections. Some counties will be eligible to begin limited reopening of additional business sectors as early as May 15 if they demonstrate they have met all requirements for reopening. These requirements include:
See fewer Oregonians getting sick from COVID-19 or have fewer than 5 hospitalizations
Have sufficient COVID-19 testing and contact tracing capability
Establish plans for supporting the isolation and quarantine of people who are sick from COVID-19
Have the hospital capacity to handle any surge in COVID-19 cases
Have enough safety equipment for health care workers
You can read more about the Three Health Signs We Must See to Reopen Oregon on OHA's website and share the social card below.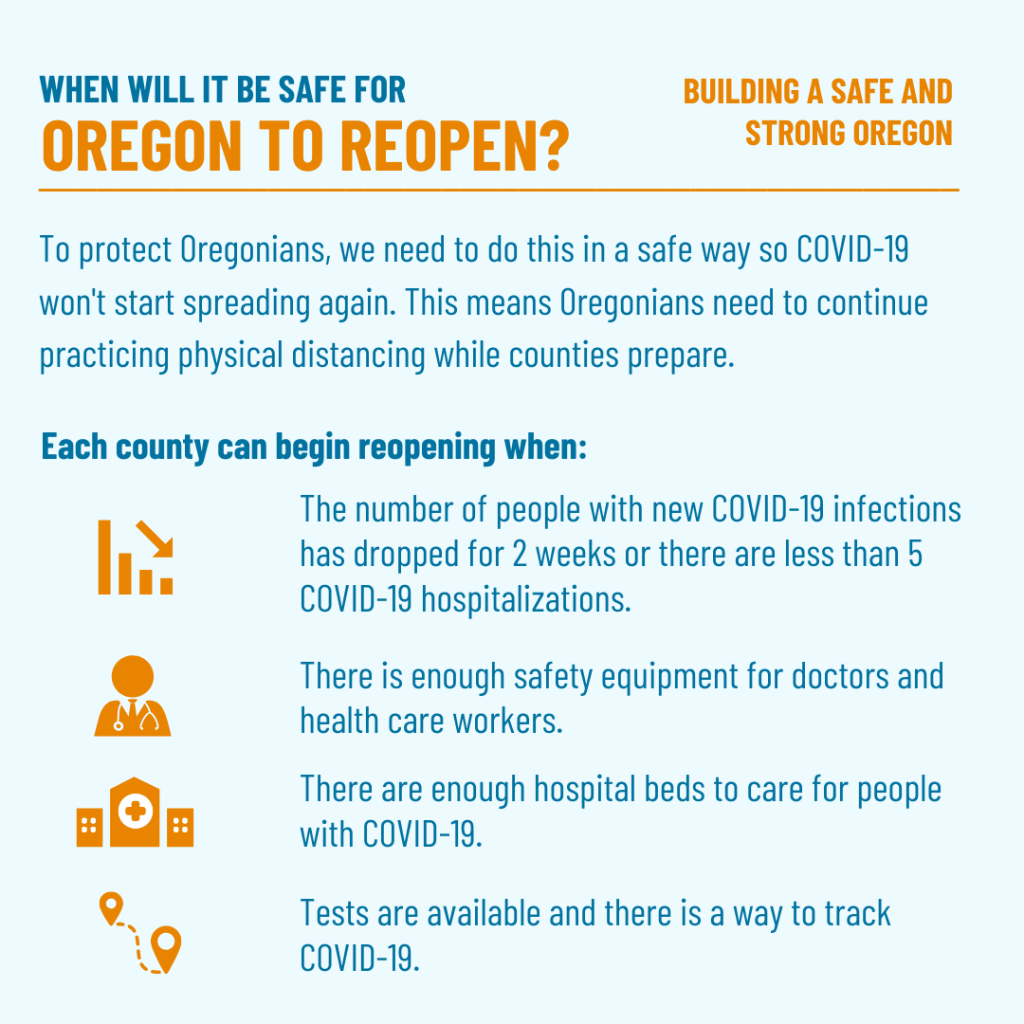 When will it be safe for Oregon to reopen?
What will happen on May 15?
Beginning May 15, retail stores that were previously closed but can follow physical distancing guidelines can begin reopening.
Childcare, summer school, camps and youth programs can also begin reopening. Counties that meet all of the health criteria will be eligible to enter "Phase I," pending approval by the Governor after recommendations from the Oregon Health Authority. In Phase I, counties can begin the limited reopening of the following sectors under specific safety guidelines:
Restaurants and bars for sit-down service
Personal care and services businesses, including barbers and salons
In-person gatherings of up to 25 people
Oregon reports 70 new confirmed COVID-19 cases, 3 new presumptive cases, 6 new deaths
COVID-19 has claimed six more lives in Oregon, raising the state's death toll to 121, the Oregon Health Authority reported at 8 a.m. today.
Oregon Health Authority reported 70 new confirmed cases and three new presumptive cases of COVID-19 as of 8 a.m. today bringing the state total to 2,989. The new confirmed and presumptive cases reported today are in the following counties: Benton (4), Clackamas (6), Clatsop (1), Coos (1), Deschutes (2), Jefferson (4), Marion (21), Morrow (1), Multnomah (16), Polk (3), Washington (11), Yamhill (3).
To see more case and county level data, please visit the Oregon Health Authority website, which OHA updates once a day: www.healthoregon.org/coronavirus.
Note: The number of hospitalizations in the 20-29, 30-39, and 40-49 age groups each dropped by one. During routine data reconciliation, these people were determined not to have been hospitalized during their COVID-19 illness.