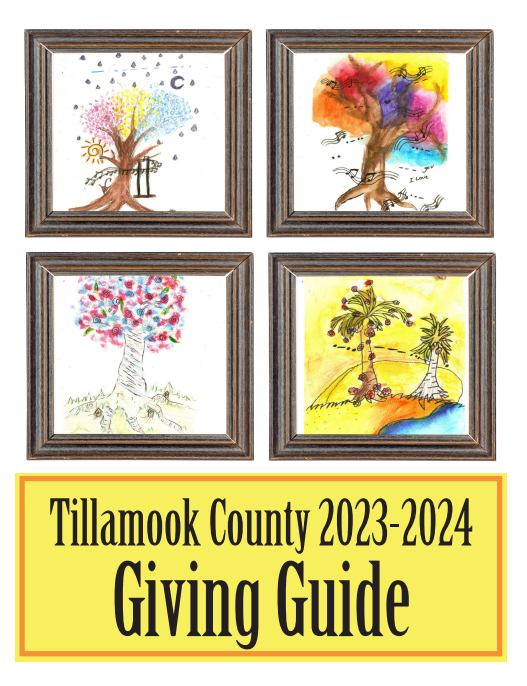 By Laura Swanson
Stops 14 and 15 included visits to Astoria, Seaside, and Tillamook
Tillamook, OR — On June 8th and 9th, Tillamook and Clatsop counties took their turns on the "One Oregon" listening tour as Governor Tina Kotek visited communities on the 14th and 15th stops of these community conversations. About half way through this listening tour, Kotek indicates this isn't a "one and done" she noted, "We will continue to seek out the local people, doing the work to identify the boots on the ground projects where the state can help. That's really why we're here. To have these conversations and ask 'What can the state do to be helpful?'" Housing, mental health and child care were the issues discussed with local leaders and community members in Tillamook, Seaside, and Astoria. "When it comes to these issues, every community is different, and what we think we know is going well, we find out isn't working from having these conversations," Governor Kotek continued. "We're working to bring these resources to all parts of the state to improve behavioral health services and housing. We have to work on it together – each community, city, county, and the state."
While in Tillamook County, the Governor held a childcare roundtable with providers, local elected officials, and business leaders at Tillamook Creamery. The discussion focused on the intersection of economic prosperity and childcare access. "I'm always amazed at the variety of services that Tillamook has available for early child development," commented Governor Kotek. The Governor left the discussion energized to continue her push to increase childcare access across the state.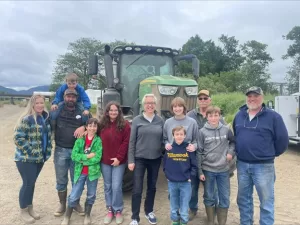 This was followed by a farm tour at Victor Dairy for an in-depth look at one of Tillamook's industrial dairy farms providing jobs and delicious dairy for Oregonians and beyond. A coffee chat with Tillamook County Chair Erin Skaar to discuss a range of local issues, and then the Governor bid farewell to the coast with a final stop at Cape Lookout State Park.
The day before, Governor Kotek traveled to Astoria, Seaside and Tillamook to meet with housing, behavioral health, early learning, business, and local elected leaders to learn about the challenges on the North Coast and how the state can help.
"It's inspiring to be in communities that look at crises like housing and childcare and see solutions," Governor Kotek said. "Half the battle is knowing what the problems are. The other half is getting people on board to move forward on a plan of action. It's my job to make sure the state is being the best possible partner to solve problems. That's why I'm here."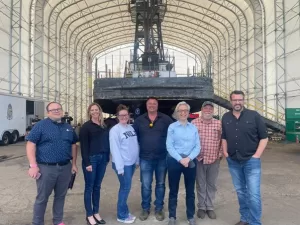 The Governor toured Hyak Maritime at Tongue Point in Astoria on Thursday June 8th, a commercial maritime industrial center and shipyard that recently received a state grant for an all electric mobile boat lift. Their plan is to repair and maintain more boats with an eye towards environmental stewardship, innovation, and job creation. "We all live in this world and we're going to keep it as nice as we can keep it," Hyak CEO Bob Dorn said. Dorn also says that the Columbia River is among the most efficient waterways in the world, well worth strong stewardship.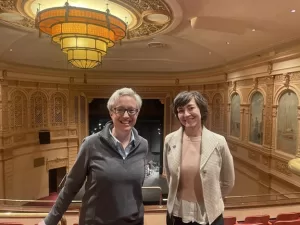 The Governor then toured the Liberty Theatre with Executive Director Jennifer Crockett. The tour included classrooms above the Theatre where nearly 100 children from the region take an array of drama courses. "The Liberty, like all venues in Oregon and many local businesses, has not fully recovered from the eighteen months of COVID closures. We welcomed the opportunity to meet with Governor Kotek to demonstrate the resiliency of the arts in our town," Crockett said about the visit.
She wrapped up the evening with a walk in beautiful downtown Astoria featuring a stop at Raintown Vintage Collective and dinner at Drina Daisy with Clatsop County Chair Mark Kujala and County Administrator Don Bohn.
Before heading to Tillamook, the Governor on Friday, started with a working breakfast and Pig n' Pancake with Seaside Mayor Steve Wright, followed by a housing and behavioral health roundtable with community partners convened by Columbia Pacific Community Care Organization (CCO).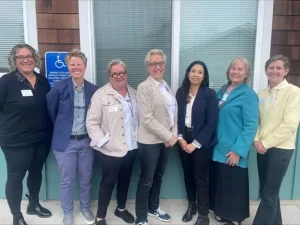 CareOregon, a partner in Columbia Pacific CCO, recently purchased the Seaside Red Lion Inn & Suites with a plan to convert it into two-thirds workforce housing and one-third permanent supportive housing for individuals with behavioral health needs. When it comes to providing housing such as the Red Lion project, Clatsop County Housing Manager Elissa Gertler said, "We've got skin in the game." They anticipate the housing units to open next spring. The roundtable also included a frank conversation about the impacts of fentanyl use among the populations they serve.
"I have been very impressed with the conversations on the housing side," the governor said. "There are good things happening here with more housing in the works. And there are challenges, whether it's permitting, workforce or financing. So one of the things that I want to know is how can we work at the state level and provide support," added the Governor.
The recent Sunset Empire Transportation District's shutdown of operations in late April was discussed. The transit district, which has restored some bus routes, has received about $1 million in loans from the state to help stabilize. The Governor noted, "The state is paying attention." She continued, "I'm pleased to see some level of service has been restored, but we need a long-term viable plan. We have to have reliability for the basic service, no shut down service in the future."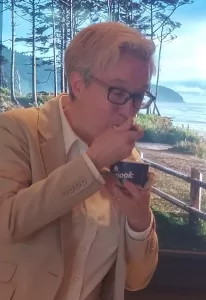 Governor Kotek enjoyed a dish of Tillamook ice cream, making the difficult choice of flavors, "We love them all – it's what we always serve." She went with the chocolate chip. "The North Oregon Coast truly is one of our favorite places, the First Lady and I visit Astoria, Arch Cape, Rockaway Beach regularly. I think we'll need to make plans for Garibaldi Days in July," she commented.