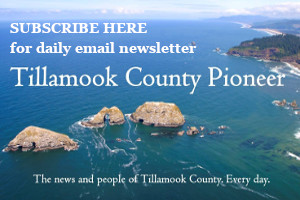 Saturday October 29th, 10 AM – 1:30 PM
Oswald West Action Day – Beach Clean Up & Costume Contest
Short Sand Beach
Event by Surfrider Foundation Portland Chapter, North Coast Land Conservancy and 2 others
Oswald West is one of the Oregon Coast's most visited State Parks. After a busy summer, we need your help to clean it up! We are partnering with the North Coast Land Conservancy, Oregon State Parks, and Public Coast Brewing Co.
This year, we will only have a Beach Clean Up activity, followed by a complimentary lunch provided by Surfrider Portland for all of the volunteers + a costume contest & prizes.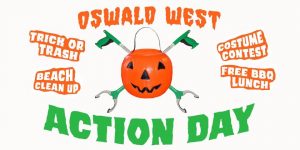 **Please arrive 15-20mins early** to check in (and get parking) near the bathrooms of the Short Sands Parking Lot:
1) Beach Clean Up: Register here – https://volunteer.surfrider.org/opportunities/IAmBIAXVGX
We encourage you if you have the means to bring your own bucket/bag for the clean up, gloves, and trash pickers. Don't forget to pack a refillable water bottle to stay hydrated, and a reusable plate/utensils if possible.
Since this event is happening the day before Halloween (Saturday 10/29), we are encouraging participants to show their holiday spirit and dress up in costume! We will have a costume contest with prizes from the Surfrider Portland Chapter. Tickets – volunteer.surfrider.org/opportunities/IAmBIAXVGX
Sat. Oct. 29th – 11am to 1 pm
Trunk or Treat – hosted by North County Recreation District
Rex Champ Field, between Nehalem & Manzanita off Hwy. 101
October 29, 1-3 p.m.
Trunk-or-Treat
Hosted by Rockaway Beach Fire & Rescue
Location: Rockaway Beach Wayside, Hwy 101 & S. Pacific
Meet Rockaway Beach firefighters, collect candy and information for a safe Halloween.
October 29, 5-8 pm
Trick or Treat the Dory Fleet
Hosted by Pacific City Dorymen's Association
Cape Kiawanda Community Center
October 31, 3-5 p.m.
Hall-O-Nita
Location: Downtown Manzanita, OR
Trick-or-Treat at participating businesses. Enter coloring contest at Toylandia for a chance to win prizes.
October 31, 5-7 p.m.-ish
Harvest Festival
Hosted by God's Lighthouse
Location: Hwy 101 & 8th St, Garibaldi
There will be games, treats and a bounce house!
October 31
Trick-or-Treat
Hosted by Garibaldi Fire & Rescue
Location: 107 S. 6th St, Garibaldi
Meet local firefighters and receive candy.
Contact (503) 322- 3635 for further information.
October 31, 3-5 pm
Downtown Tillamook – Join us for the Downtown Trick or Treat
Monster Mash Bash – Second Street Plaza, 3- 8 pm
Join us for the Downtown Trick or Treat
Goblins and ghouls, princesses and witches, parents and friends, are you ready for the annual Downtown Trick or Treat? There's something special about bags full of candy, businesses decorating their window displays, and a community that celebrates together. That's exactly what the Downtown Trick or Treat is for.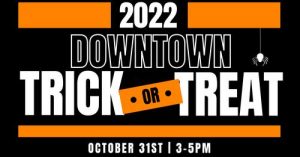 Last year, the Chamber successfully held its annual Downtown Trick-or-Treat with some minor modifications for state COVID regulations at the time. It was a highlight for the year, and we enjoyed seeing all the creative costumes the kiddos wore. This year, we'll be in full swing with the downtown district's participation as well as other key stops like Tillamook Bay Community College and City Hall.
Here's how it will work: You'll know which businesses are open for the event by checking their window for our flyer. Participating businesses will also set up a table or other means of handing out candy in front of their building. As you walk by, you can stop at each storefront to trick-or-treating and show off your costumes.
If your claws or ghostly feet don't feel up for walking, or if you want to make sure that you make the most of your Halloween stops, the Tillamook County Transportation District will have its Halloween Trolley running from 3-6 p.m. They'll be picking up at Tillamook PUD, the Pioneer Museum, and the YMCA. So, if those kiddos (or you) get tired, feel free to hop on board!
And don't forget about the Monster Mash Bash at the Second Street Plaza. Courtesy of the Tillamook Revitalization Association, the Mash Bash will run from 3 – 8 p.m. and will feature a costume contest for both kiddos and parents, pumpkin carving, bowling, local vendors, and more! Stop while you trick or treat downtown, or pop in after.
We ask that all monsters, fairies, and parents who come out for treats practice patience while waiting to get their candy and don't crowd any tables or businesses. There will be lots of kids out and about, so you may have to wait occasionally. I recommend using that time to admire other costumes, look at the window decorations from businesses, or practice saying "trick-or-treat" in the most frightening ways!
Trick-or-treating starts at 3 p.m. and ends at 5 p.m. rain, shine, or anything in between. Please note that not every business downtown will be participating, so just remember to look for our flyers in businesses' windows and candy stations outside.
Of course, the Chamber will be participating as well! So don't forget to stop by the Chamber HQ to see Brooke and grab some candy. Bring your monsters, princesses, goblins, and witches down to our annual Downtown Trick-or-Treat from 3 – 5 p.m. on October 31 for an evening full of fright and fun.
See you there… If you dare!