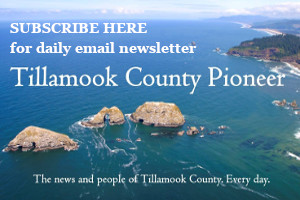 "When our health care system was preparing for the worst of this, volunteer health care workers answered the call," said Governor Brown. "I want to commend all our health care professionals and volunteers for their incredible work protecting the lives, safety, and wellness of Oregonians during this crisis."
The Oregon Health Authority is amplifying efforts to recruit health care professionals to join the State Emergency Registry of Volunteers in Oregon (SERV-OR) as Governor Kate Brown advances plans for safely reopening Oregon.
Since March SERV-OR has added more than 800 new volunteers, strengthening OHA's ability to contain COVID-19 cases and building the capacity of the volunteer program to respond to future emergencies.
Duties of SERV-OR volunteers are as varied as they are vital, from supporting medical casualty triage and behavioral health services to staffing medical shelters and information hotlines. OHA is planning for volunteers to be a critical part of the state's COVID-19 recovery effort by supporting contact tracing, testing, community wellness campaigns, as well as studies of long-term community effects and mass vaccination programs. Those signing up in the coming days will have the opportunity to train and deploy quickly.
If you are a health care professional, please consider registering to volunteer with SERV-OR at SERV-OR.org. SERV-OR volunteers include licensed physicians, nurses, pharmacists, emergency medical technicians (EMTs), behavioral health providers, respiratory therapists and other medical professionals.
OHA announces first case of COVID-19-linked pediatric condition
Oregon Health Authority has learned of the state's first case of pediatric multi-system inflammatory syndrome, a rare but emerging condition in children that is believed to be associated with COVID-19 infection. The case is a girl who had confirmed COVID-19. She is being treated at Randall Children's Hospital at Legacy Emanuel in Portland.
Little is known about the syndrome, although it's believed to be rare. Boston Children's Hospital, citing a recent health alert out of the United Kingdom, noted symptoms that include fever, inflammation, and poor function in one or more organs. It is reportedly similar to Kawasaki disease, which causes fever, rash, swelling of hands and feet, redness of the eyes, swollen lymph glands, and inflammation of the mouth, lips and throat.
Protecting your health if you have chronic kidney disease
We've heard that many of you are interested in learning more about why certain underlying conditions can lead to complications from COVID-19. The graphic below shares information about why chronic kidney disease puts people at a greater risk for severe illness from COVID-19 and how you can protect your health.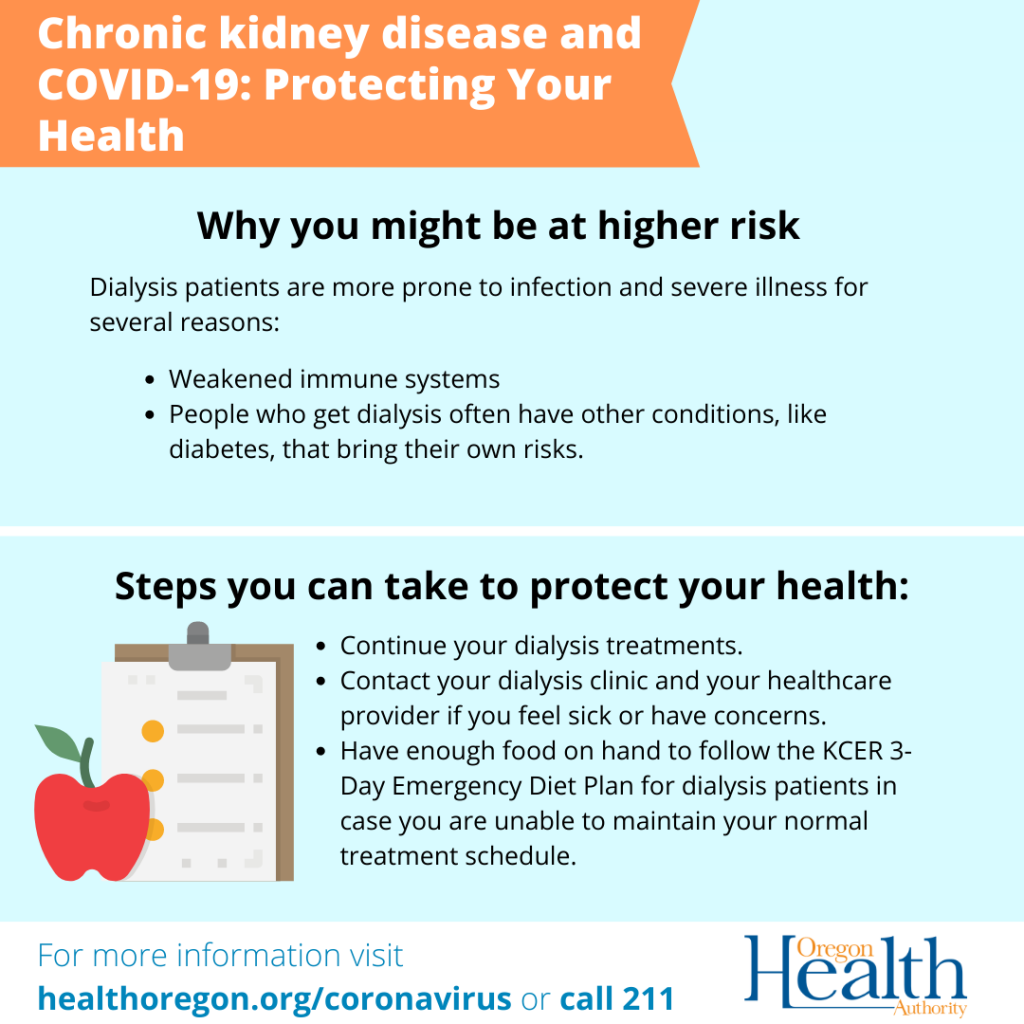 Oregon reports 55 new confirmed COVID-19 cases, 4 new presumptive cases, 4 new deaths
COVID-19 has claimed four more lives in Oregon, raising the state's death toll to 134, the Oregon Health Authority reported at 8 a.m. today.
Oregon Health Authority reported 55 new confirmed cases and four new presumptive cases of COVID-19 as of 8 a.m. today, bringing the state total to 3,416. The new confirmed and presumptive cases reported today are in the following counties: Clatsop (3), Columbia (1), Coos (1), Hood River (1), Linn (1), Malheur (1), Marion (23), Multnomah (13), Polk (1), Umatilla (1), Washington (13).
Note: During routine data reconciliation, a presumptive case originally reported as a Deschutes County case was later determined not to be a case. It was subtracted from Tuesday's state total, and the number of cases in Deschutes County was reduced by one to reflect this change.
To see more case and county level data, please visit the Oregon Health Authority website, which OHA updates once a day: www.healthoregon.org/coronavirus.