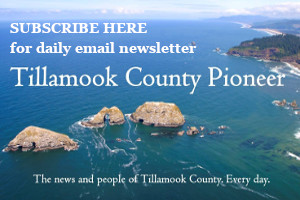 In early October, Heart of Cartm hosted their monthly Repair Cafe at The Refindery workshop in Wheeler and on October 15th, International Repair Day, Heart of Cartm and the Garibaldi Public Library hosted the first Repair Roadshow at the Garibaldi Community Hall. June Ekborg, Library Assistant in Garibaldi, met expert fixers with coffee, cookies and a big smile. "June made our group feel very special," exclaimed Jessi Just, Executive Director for Heart of Cartm.
With so many inexpensive and disposable products available, it's often easier to throw things away than to repair them. This not only creates more garbage in the landfill, but also a greater carbon impact.  So when you choose repair, you are reducing energy consumption and supporting your local community.
Heart of Cartm has been hosting a monthly Repair Café for one year. At these Repair Cafes, participants bring a household item in need of repair and volunteers diagnose and fix the items for free. The most popular items they fix are small appliances, lamps and clocks. They also sharpen tools, mend garments, and repair jewelry. In addition to bringing broken items back to life, Repair Cafés teach participants how to take apart, diagnose and fix their own things.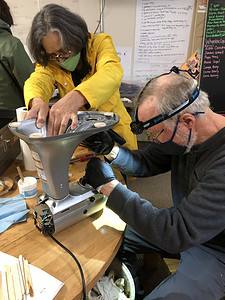 "It's fun to watch participants and fixers learning side-by-side and we often see fixers working together on a repair," Just explains. "The atmosphere is easy going. It's a safe place to say, 'Help. I can't figure this out.'"
The next Repair Cafe will be on November 19th, 3:00-5:00 at The Refindery workshop in Wheeler. Please visit Heart of Cartm's website to sign up now, if you have an item in need of repair. www.heartofcartm.org
Heart of Cartm will continue to organize a monthly Repair Cafe to promote the value and importance of repairing in a zero waste community. If you have repair skills to share or are a business owner interested in sponsoring this event, please contact Jessi Just. 971-389-8414 or jessi@heartofcartm.org
Heart of Cartm is a nonprofit organization dedicated to community building, sustainable living and artistic expression. Their creative reuse store, The Refindery, is open Thursday – Monday, Noon-6pm.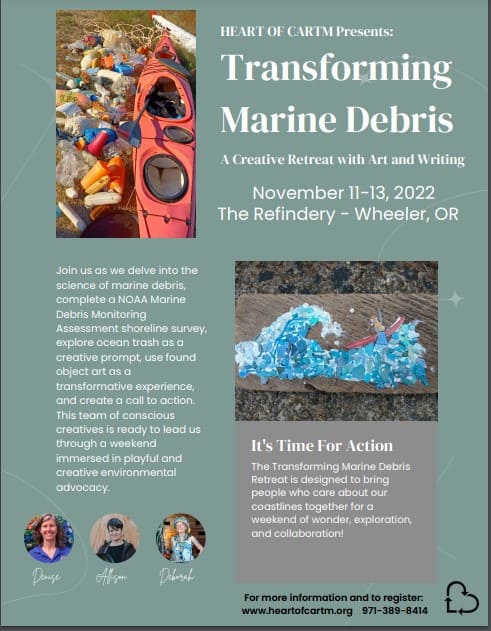 TRANSFORMING MARINE DEBRIS Weekend Workshop – Nov. 11-13:
Heart of Cartm wants you to know about Transforming Marine Debris, an opportunity for people who care about our coastlines to come together for a weekend of wonder, exploration and artistic collaboration.

November 11

-13 at The Refindery in Wheeler we will dive into the science of marine debris and explore it as a creative prompt.
Visit our events page https://www.heartofcartm.org/events to Learn More and to Register. Minimum age for this retreat is 18.
If you or someone you know could benefit from this experience and needs a little help, Scholarships and Work Trades are Available! Registration for these slots are also available on our events page.