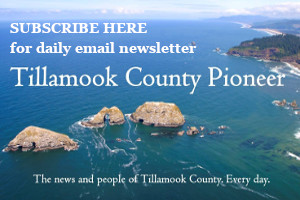 Invasive English ivy has a foothold along the Skipanon River in Warrenton, where it climbs into Sitka spruces and other native trees, causing them to rot and ultimately topple. North Coast Land Conservancy is seeking volunteers for a stewardship day on Saturday, Jan. 26, from 10 a.m. to 1 p.m. to tackle ivy in the conservancy's Skipanon Forest Habitat Reserve.
The spruce forest-and-swamp habitat type that characterizes the property is considered globally rare. NCLC scheduled this stewardship day in the winter, when the deciduous vegetation has died back and it's a little easier to move around, but volunteers can still expect rough walking. Most of the ivy at Skipanon Forest is growing on large Sitka spruce trees, but there may be some on the ground as well. Handsaws, loppers, and other tools will be used to remove this invasive vine.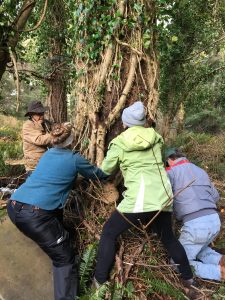 Please e-mail Stewardship Director Melissa Reich at melissar@nclctrust.org or call her at 503-738-9126 if you plan to attend. She will provide directions to the site (and will notify volunteers should inclement weather force a change of date). Wear gloves and work boots. NCLC will supply the necessary tools. Bring water and snacks/lunch; there are no toilets and no potable water at the site. Dogs are not allowed on any NCLC properties.
Details about this and other North Coast Land Conservancy volunteer opportunities are at NCLCtrust.org; look for Hands-on Stewardship under EVENTS.