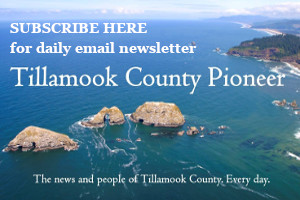 If you drive by the Tillamook post office much, you've probably noticed the signs of progress at the Hoquarton House–or, more properly, the Hoquarton Historical Interpretive Center—just next door. The turn-of-the-century house and surrounding grounds got a lot of attention in 2021,
including the restoration of the front bay windows, installation of several new north-facing windows, the pouring of the science lab floor downstairs, the design and construction of a nativeplant trail, and much more. It was a big year, and thanks to some new grants and donations from
the project's community partners, the building and grounds will be opening to the public in the fall of 2022.
For those who don't know the back-story, the idea for the Hoquarton HIC came out of an ambitious planning process that created Hoquarton Park back in the early 2000s. That process uncovered a largely forgotten history of the Hoquarton waterfront, a history that chronicled the evolution of transportation and industry in Tillamook. The collected artifacts, photos and stories from that effort culminated in an exhibit at the Pioneer Museum in 2005. That show was among the museum's most popular, and it led to the idea of creating an interpretive center. The vacant Carlich house was suggested as a potential site, and soon after, it became the meeting place for the Hoquarton planning team. Then came the Highway 6-Highway 101 interchange project, which led to the 2013 decision that the Carlich house would have to be moved or demolished to make way for the new interchange. Most of the project partners moved on at that point, but Charles Wooldridge and his fellow Board members at the Bay City Arts Center stepped up to
carry the project forward.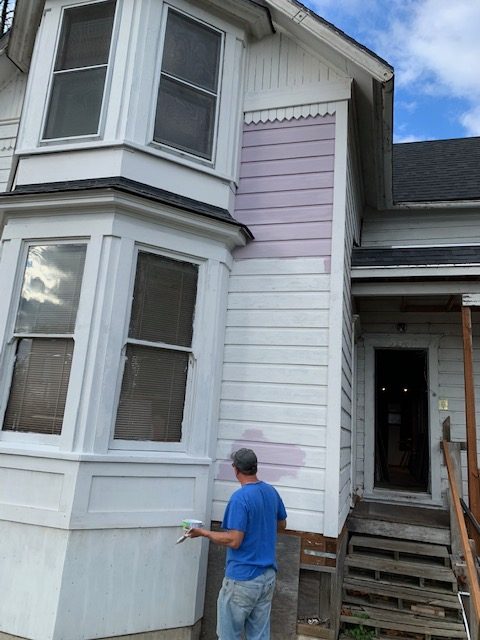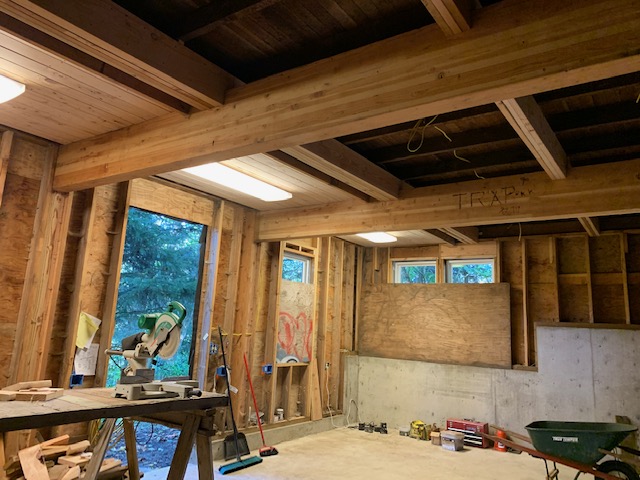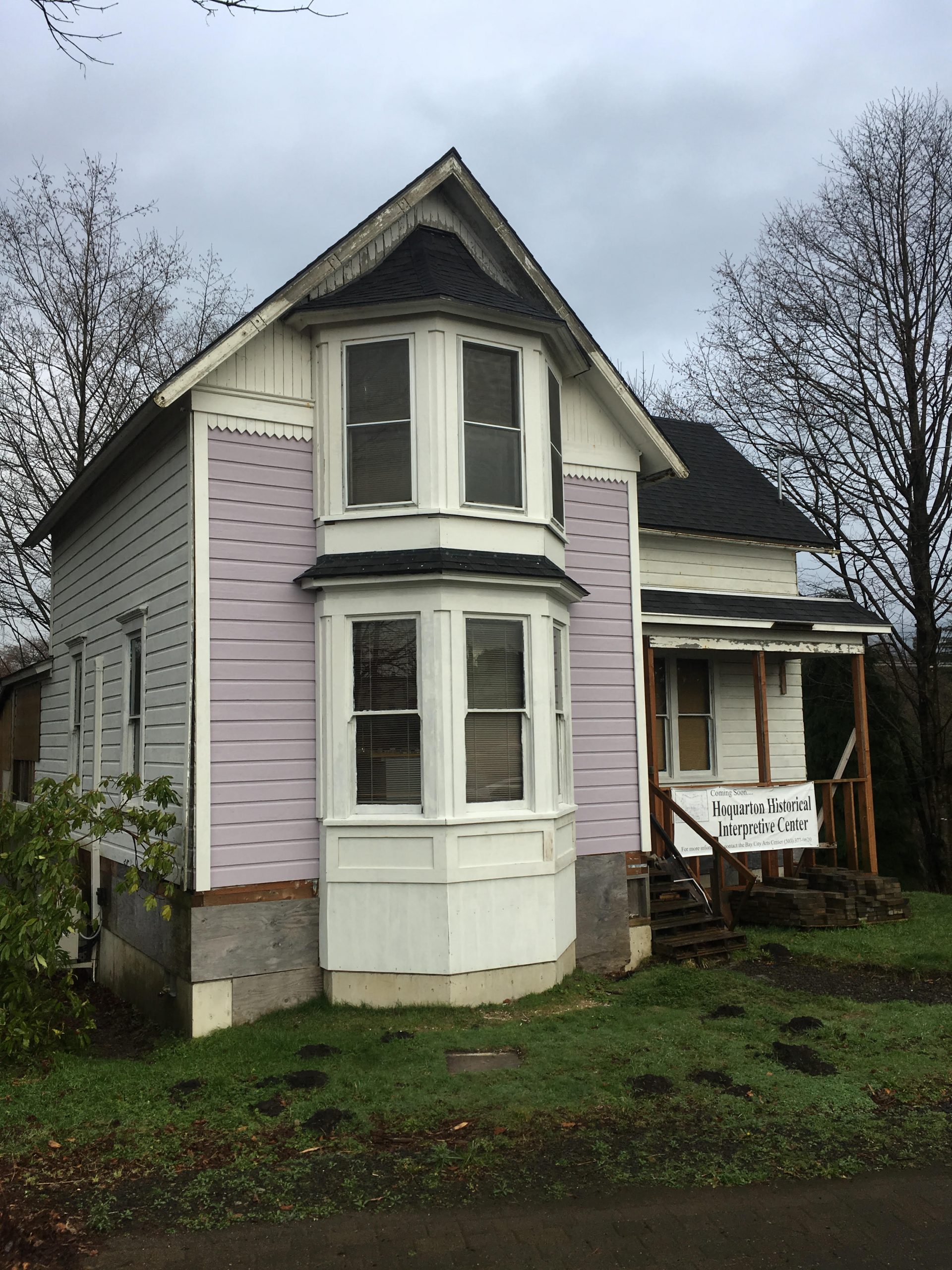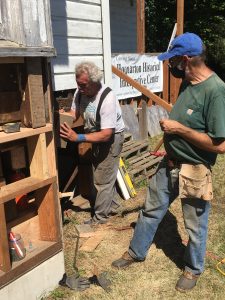 "After struggling to find a non-profit to sponsor Hoquarton House, it was amazing that the Bay City Arts Center Board stepped up," remembers Wooldridge. "I credit Gene Norris, Dia's late husband, for giving the Arts Center Board the confidence to take on the project. Gene passed away in 2005, but he really saw the potential, the vision, for what it could be."
The first phase of the Hoquarton HIC project had two components: 1) lifting and moving the house to a newly-poured foundation 70 feet to the north; and 2) creating a new cement-paver parking area.
"That had to be the most monumental aspect of the project," says Wooldridge. "Bergeman Construction did the moving, and they did and amazing job. It was incredible to watch them lift and move the old house. I'd say they made it look easy, but there was nothing easy about it."
The second phase of the project involved enclosing the old back porch, reinforcing the floor structure, and creating an enlarged basement to house the science lab. Clair Thomas, science and natural resources advisor for the Tillamook School District, joined the project early on to plan
and oversee construction of the science lab.
"Can you imagine a better place for kids to do science?" asks Thomas. "Hoquarton House is such a great location, with an incredible natural area right on the doorstep. Students will be set up to do all kinds of scientific inquiries, some of which will involve kayak trips into the wetlands."
Phase three of the project, which is in-progress now, includes final structural improvements to the building, and final restoration or reconstruction of the interior and exterior. Phase four, which will start this summer, will include the creation of a network of concrete-paver pathways leading into and around the building, a covered back-patio/meeting area–also finished with paver bricks–the completion of the main-floor galleries and offices, and the completion of the science lab downstairs. Three of the main-floor rooms will be devoted to Hoquarton Slough history,
featuring photos and artifacts that tell the story of the waterfront's evolution. The back room—what was once the back porch–will house administrative offices for the Tillamook County Historical Society and the Tillamook Bay Watershed Council, two partner-organizations who will provide volunteers to help operate the facility once opened.
"If all goes as planned, we'll open the main floor and the science lab to the public this fall," says Wooldridge. "We expect to open the upstairs rooms the following year. It's going to be a marathon, but most of the pieces are in place."
Wooldridge stresses that the project is seeking to raise another $50,000 this year to meet its fundraising goal. That will bring the projected cost to between $250K and $300K, including cash and in-kind donations. "We're writing a couple more grants this winter, and we're going to approach a number of charitable foundations for donations over the coming year."
The Hoquarton HIC project has been made possible by a growing list of community partners and sponsors including Tillamook County, the Tillamook Urban Renewal Agency, Rosenberg's Building Supply, the Tillamook County Historical Society, Hampton Lumber, Tillamook School District #9, the Oregon Cultural Trust, Oregon Community Foundation, the Pastega Foundation, the Gene Norris Memorial Fund, the City of Tillamook, Tillamook Estuaries Partnership, the Tillamook Bay Watershed Council, and the Bay City Arts Center. These partners have contributed critical assistance through grants, in-kind donations, and hundreds of hours of volunteer labor.
If you would like to make a charitable donation to the Hoquarton HIC or learn about volunteer opportunities, contact Charlie via telephone at 503-842-7013 or via email: baycityartscenter@gmail.com
The BCAC is a community gathering space featuring art galleries, a performance hall, a dining hall, a recording studio, and a radio station, all wrapped up in one historic building in downtown Bay City. It's also a collection of volunteers and friends who come together in the name of
community, art, expression, and reverence for the beauty of the North coast. Learn more on its web site: https://baycityartscenter.weebly.com