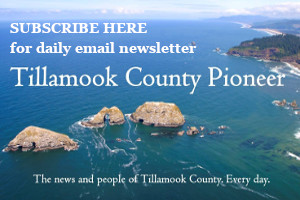 There's something very special at the Hoffman Gallery in Manzanita for December.
Twenty-one North Coast painters and 11 north coast potters created sixty one-of-a-kind hand-made and hand painted plates and platters. The show opened Dec. 7, the always fun and lively artist's reception is Dec. 8 and the show runs through Dec. 30. There will be a last day party for final bidding!
Gallery hours are 1-4 every Friday, Saturday, and Sunday.
We are raising funds to match a generous donation for much-needed improvements to the Hoffman Center's restroom and kitchenette areas.
Everyone involved volunteered their time and talents. Bids can be placed on pieces displayed in the Gallery throughout the month, but there will also be a "buy now" price.
The painters include Deborah DeWit, Ben Rosenberg, Laura Ross-Paul, Liza Jones, Paul Miller, Levering Thomas, Pam Greene, Matthew Dennison, MJ Anderson, Rae Mahaffey, Lori Dillon, Sherrie Wolf, Peggy Biskar, Mardy Widman, Barbara Temple Ayres, Bonnie Kost, Sharon Gibson, Melissa Young, Lloyd Lindley II, Toni Greening, and Tom Ayres.
Potters include Allan Olson, Sharon Gibson, Steven Gibson, Stacy Nuttall, Barbara Temple Ayres, Donna Miller, Carl Vandervoort, Shane Sjogren, Kathleen Larson, Kathleen Kanas, John Zogg, and Mary Roberts.
Volunteers in the Hoffman Clay program organized, finished, and fired the plates.
Local resident Bonnie Laing-Malcolmson is curating the show. Her background includes past President of the Oregon College of Art and Craft in Portland, Oregon, as well as curatorial positions with the Portland Art Museum.
The December Gallery show will also include black and white "New Year's Day" photos of Twin Rocks Beach by Robbie McClaran. McClaran is a fine-art photographer whose works have been shown in museums across the U.S. including the Portland Art Museum. His book is also be available for purchase at the Gallery.
For more information about Hoffman Center visit their website at www.hoffmanarts.org