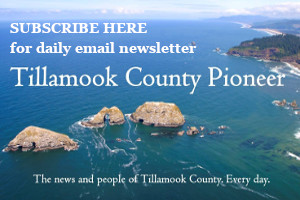 Poetry Walk
July 1—30 | 8am-8pm
Hoffman Wonder Garden
595 Division Street | Manzanita | Oregon
From July 1-30, the Hoffman Center for the Arts will delight the community with a Poetry Walk featuring fifteen poems celebrating summer at the coast and written by local poets. Poems are placed along nine blocks of Laneda Avenue in Manzanita, between the Visitor's Center on 1st to the west and the architecturally beautiful Columbia Bank building at Classic Street to the east.
This poetry walk is a fun and free event for all.
The Manzanita Poetry Walk launches our summer fundraiser
Non-profit Organizations like depend on donations for half of our operating expenses. However, this year we have an especially important goal – to retire the final debt on our building. Help us reach our goal of raising $99,800 to own the building! Please dig deep to end the debt. Learn more here and donate!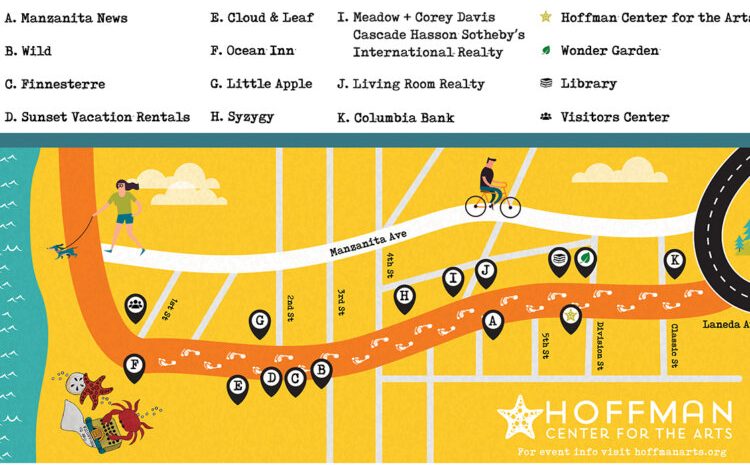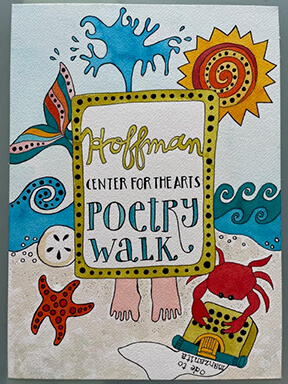 Poems are displayed at the Manzanita Visitor's center, sponsor businesses along Laneda, at the Hoffman Center for the Arts and Hoffman Wonder Garden
During July, the walking map will be available at the Visitor's Center at First and Laneda Avenue and at the Hoffman Center.  Visitor Center Hours are 11-3 Wednesdays through Sundays. Hoffman Gallery hours are Thursdays through Sundays 1-5.
Poets will read July 9th from 10:30 until 2 along Laneda Avenue
Join in whenever you like and stroll Laneda to hear the poets in person. See the Poetry Circuit schedule here.
All of the 18 by 24 framed poems will be raffled for $10 per ticket and winners
selected August 1st
Tickets may be purchased at the Hoffman Center Art Gallery 1-5 Thursdays through Sundays. To read each poem, learn about the poets and make your selection ahead of time, click here.
The Hoffman Center for the Arts is a 501(c)(3) not for profit providing arts and cultural programming in Clay, Horticulture, Visual Arts, and Writing
We operate an art gallery featuring artists with a coastal connection. We serve our local community of artists and creators, participants, audiences and attendees by fostering creative expression through classes, lectures, a clay studio and horticultural demonstration garden. We need engaged citizens like you to help us make that happen. Support the local art center!
We will post progress in reaching our goal every two weeks! Check back here.