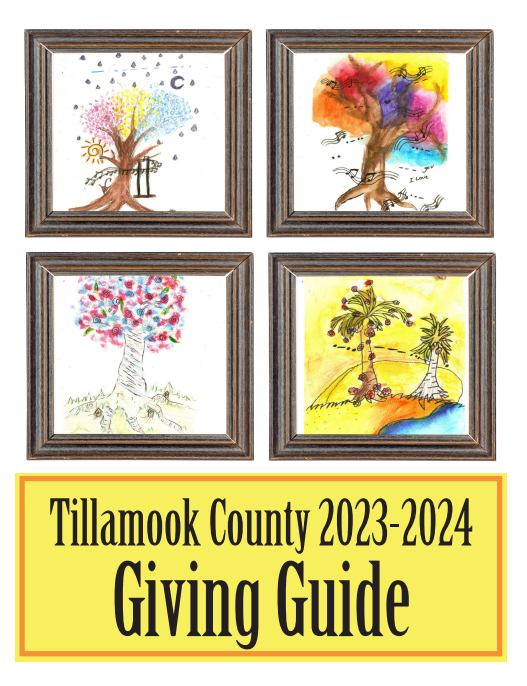 Join the Manzanita Writers' Series to welcom Co-editors Elizabeth Bradfield and Derek Sheffield along with contributors Lex Runciman, Alyssa Ogi, and Nancy Slavin read from and discuss Cascadia Field Guide: Art, Ecology, Poetry on Saturday September 30th from 6 to 8 pm.  
Event is free and open to the public
Please register to reserve a space | Walk-ins are welcome
Hoffman Center for the Arts | 594 Laneda Avenue | Manzanita
Cascadia Field Guide brings together art, poetry, and stories holding scientific, sensory, and cultural knowledge to celebrate and illuminate Cascadia, the diverse ecoregion stretching from Alaska's Prince William Sound to Northern California and from the Pacific Coast to the Continental Divide!
This unique book contains 13 communities (from Tidewater Glacier to Shrub-Steppe) and 128 beings (from Geoduck to Cassia Crossbill), offering any reader, local or visitor, a new way of connecting-–with heart and mind and body-–to place.
—"Have you ever been so filled up with the wonder of a place that it wants to spill out as a song? Well, here is the songbook….A gift in reciprocity for the gifts of the land." – Robin Wall Kimmerer
—"A deeply informative and wildly exuberant visual and literary romp." – Ray Troll
—"Amazing, a wonder, a gratitude."– Ross Gay
—"An essential compendium… a 'feel guide' to an extraordinary place." –J. Drew Lanham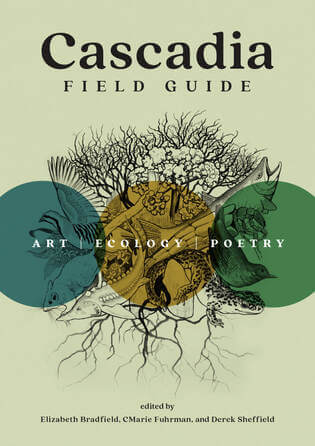 Elizabeth Bradfield is the author of five books of poetry: Once Removed, Approaching Ice, Interpretive Work, Toward Antarctica, and Theorem, and her poems have appeared in The New Yorker, Poetry, The Atlantic Monthly, Orion, and elsewhere. A Stegner Fellow and Audre Lorde Prize winner, she is the founder of Broadsided Press, teaches at Brandeis University, and has worked as a naturalist in Cascadia and beyond for the past twenty-some years.
Derek Sheffield is the coeditor of Cascadia Field Guide: Art, Ecology, Poetry. His other collections include Not for Luck, selected by Mark Doty for the Wheelbarrow Books Poetry Prize, Through the Second Skin, and Dear America: Letters of Hope, Habitat, Defiance, and Democracy. He teaches in Western Colorado University's low-residency MFA program, edits poetry for Terrain.org, and can often be found in the forests and rivers along the eastern slopes of the Cascade Range near Leavenworth, Washington. Catch up with him at www.dereksheffield.com
Alyssa Ogi received her MFA from the University of Oregon and taught undergraduate creative writing and literature before shifting into book editing for Tin House in Portland, Oregon. A recipient of an Elizabeth George Foundation grant and an Oregon Literary Fellowship, she has been published in Best New Poets, Poetry Northwest, They Rise Like a Wave: An Anthology of Asian American Women Poets, and other journals.
Born and raised in Portland and with long stays in Corvallis and McMinnville, Lex Runciman has always felt Oregon's Willamette Valley his home. He studied with Madeline DeFrees and Richard Hugo. In 1989, his second book, The Admirations, won the Oregon Book Award in poetry. His sixth volume, Salt Moons: Poems 1981–2016, was published by Salmon Poetry (Ireland) in 2017. He is father of two and grandfather of four. In 2021, he and his wife celebrated fifty years together. He lives now within easy walking distance of Oaks Bottom Wildlife Refuge, in Portland.
Nancy Slavin lived and worked on the north Oregon coast with her spouse and their daughter for more than two decades, until they all up and moved south of Portland. She's published a novel, Moorings, and a poetry collection, Oregon Pacific, as well as numerous other writings. She believes storytelling leads to understanding, action, and collective liberation—releasing, spreading, and seeding like fireweed in the most disturbed of grounds.
September 30, 2023| 6:00-8:00pm
Event is free and open to the public
Please register to reserve a space | Walk-ins are welcome
Hoffman Center for the Arts | 594 Laneda Avenue | Manzanita
To Register: https://hoffmanarts.org/events/cascadia-field-guide-art-ecology-poetry/