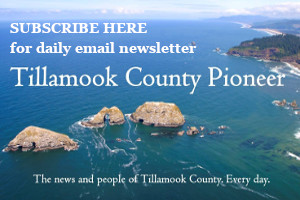 The membership of RBCWP welcomes CLDC organizer Erin Grady from 6 to 8pm on Tuesday, Nov.13th at the North Coast Recreation District (NCRD) building,
36155 9th St. in Nehalem, Oregon.
RBCWP invites all coastal residents interested in healthy, sustainable forestry on the North Coast to attend our public meeting Nov. 13th.
We will draw on Erin Grady's significant knowledge of— and experience in— direct action and forest defense as we seek ways to advocate successfully for the preservation, rehabilitation, and sustainability of our natural watersheds.
The Civil Liberties Defense Fund provides litigation, education, legal and strategic resources to strengthen community efforts to stand against environmental destruction.
"Widespread clear-cutting and the resulting siltification of our area streams, rivers and estuaries is harmful to forest health, salmon habitat, and drinking water. Forestry pesticides used by the timber industry only compound the problem, targeting wildlife food sources and further degrading the natural filtration of rainwater." — RBCWP member Carl Whiting, PhD The Nov. 13th event is free, and all interested community members are encouraged to attend.
Erin Grady is an organizer at the Civil Liberties Defense Center. She has a background organizing direct action campaigns in Oregon. Before joining CLDC, Erin spent nearly a decade taking on clearcut logging and oil and gas infrastructure with Cascadia Forest Defenders, Coast Range Forest Watch, and various Rising Tide groups. She now works with the CLDC to pass on good legal information and support to the direct action community locally and nationwide.
Questions, contact Jack and Jane Anderson at 503-812-0059.