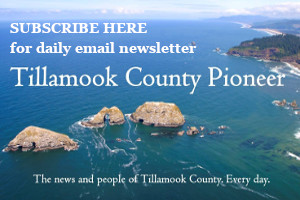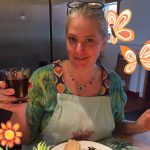 By Dana Zia, the Golightly Gourmet
There is so much abundant food growing right now, it is staggering. My neighbor's fig tree, which hardly ever produces, fed the neighborhood for weeks. The berries everywhere are so abundant that our freezer is already full of smoothie material for the winter. But what has surprised me the most is an unsung hero that I have never paid any attention to — the salal berry.
Did I figure this out on my own? No, the dog did. Yup, our ever food seeking Labrador started eating the salal berries and we scratched our heads. Well, Ok, if the dog likes them, we might. (Since she is a foodie dog, you know.) What a revelation! They taste like jammy blueberries crossed with a concord grapes. Why hadn't I heard much about these before? (and have a dog tell me?)
Salal berries are as ubiquitous as blackberries around here and hardly even talked about much less eaten. The only attention given to this indigenous bush, Gaultheria shallon, is by the floral industry where the evergreen foliage is highly prized throughout the world. According to our local Herbalist, Vivi Tallman of Tallwoman Herbs, "My experience is that the taste of salal berries varies from year to year, and that they are sometimes delicious, sometimes flat tasting and mealy. Sounds like it's a good year for them." She also pointed out that some bushes have tastier berries than others, so if you don't like one bush, try another.
I'm sure the Native Americans that lived in the NW knew the best salal berry patches as it was a major source of food, medicine and lore for them. They would pick the berries in late summer and mash, dry them and make them into fruit leather type cakes that would be stored for the long wet winters. Since the berries were so abundant the cakes would sometimes weigh up to 10-15 pounds! They'd soak them in seal, whale or fish oil when they got ready to eat them. (I don't think I'll be trying that)
I bet these little berries are packed with good nutrition, as they will turn your fingers and teeth, dark purple. (Don't worry, it wears off after a few days) That is the color of health, AKA phenolic flavonoid phytochemicals, which are antioxidant compounds that fight against cancer, aging, inflammation, and neurological diseases. But here's the deal, there's no research on these berries anywhere that I can find. I can only imagine they have a similar nutrient profile to blackberries but better since they haven't been altered for production.
There is a trick to harvesting salal berries because if you pick them like blueberries the heart of the berry will remain on the stem and they'll squish all over your fingers and you will be purple in no time. Take a pair of floral snips or scissors with you and clip the berries, stem and all, into your container. When you get home, snip off the berry with scissors or floral snips. So much easier!
I researched high and low for salal berry recipes and they are hard to find. The most popular recipe for them is jelly, which was fine by me. I imagine that you can pretty much use them anywhere that you use a blueberry though. I did hear from one friend that if you freeze them they become really tough but I'll have to try it anyways. I found that these berries didn't need much sugar at all and the edition of rosemary moves this jelly into a perfect NW sort of a gift or excellent on a cheese platter. You'll soon find out for yourself that they aren't just for the dogs!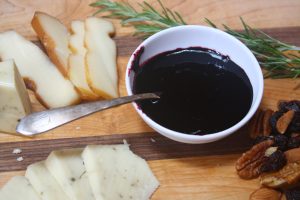 NW Salal berry jelly
The recipe
10 cups of salal berries, rinsed and off the stem
4 TBLS of lemon juice
1/4 cup of water
Zest of one lemon
2 TBLS of fresh rosemary, minced fine
A half cup of sugar (organic preferred) add more if you want it sweeter
1/2 pack of liquid pectin
Equipment you need
4 half pint jars, sterilized with hot water
Lids for the jars, sterilized
Rings for the lids
A big pot or canner to put the jelly jars into for a water bath
First off sterilized your jelly jars by washing them in the dishwasher on the HOT water cycle or microwaving them full of water till they boil. Keep the jars warm while you make your jelly. I sterilized the lids by dropping them into a pot of boiling water that is off the heat. I leave them there until I am ready for them; then remove them from the hot water with a pair of tongs to place on the hot jars with jelly in them.
Simmer the berries, lemon juice and water in a nice fat saucepot on medium heat. When the berries are getting broken down and the juice is very purple, about 10-15 minutes, mash the mix with a potato masher until it is all a fine mess. At this point you'll want to strain it. You can do that by pressing it through a fine mesh or processing in a food mill. (You can skip this step if you want but the skins are kinda tough)
Return the salal berry mash to the saucepot and add the sugar, pectin, lemon zest and rosemary and bring to a simmer over medium heat. Remove from the heat and pour into your hot sterilized jars, put your hot lids on with the rings and put in a hot water bath for 10 minutes. Turn off the water bath, let cool for about 10 minutes, remove the jelly jars onto a heat proof surface, and let set over night. Don't touch them or jiggle them so they can seal. In the morning, tap the lids and you will be able to hear a tight sound if they are sealed. If not, open it up and eat it now! Keep in the fridge after opening.