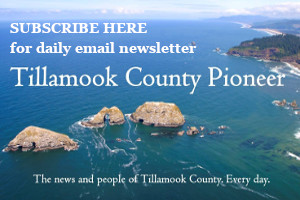 By Mallory Gruben, Tillamook Chamber Communications Manager
WHEELER — During his 40 years of policing, retired Rockaway Beach Police Chief Ed Wortman had the opportunity to travel the US and the world making friends, swapping stories and trading artifacts related to that profession. Wortman's personal collection of police gear grew until he retired in 2015, when one might ask, what do you do with it?
In Ed Wortman's case – and with a cadre of dedicated volunteers to help – he used the collection as a foundation to open the International Police Museum (IPM). Just a month shy of 6 years old, IPM is celebrating both its five-year anniversary as a member of Tillamook Chamber of Commerce and the success of its new home in Wheeler, Oregon.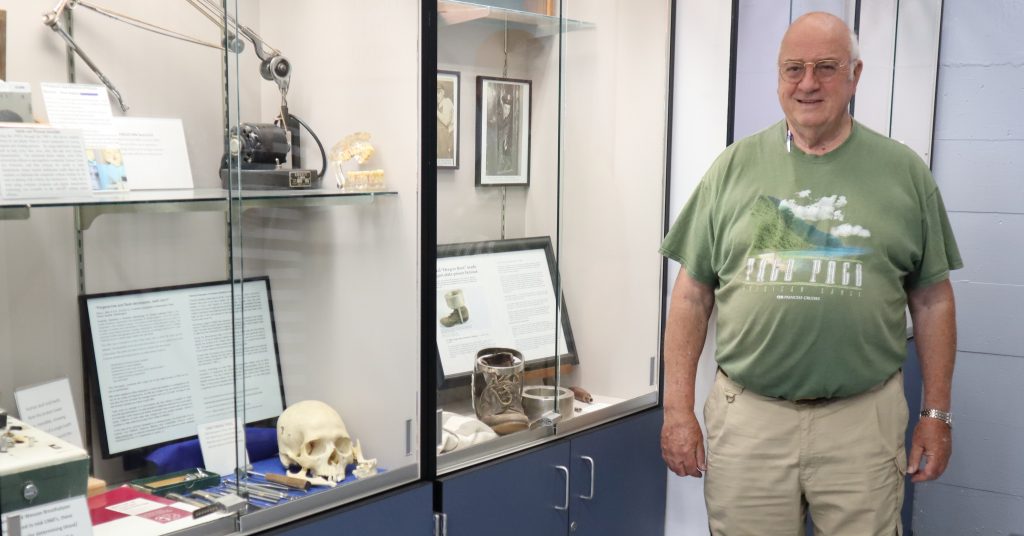 While Wortman's collection served as the initial foundation of IPM, the museum now regularly receives a variety of items donated by visitors, current and retired officers and their families. Many face a similar problem: What to do with items they or family members proudly collected but have no room or desire to keep.
The only museum of its kind in Tillamook County and the Northwest Coast, IPM's mission is to foster mutual appreciation and understanding between police and the public they serve. Wortman referred to "Peel's Principles of Law Enforcement." Written nearly 200 years ago, one of the principles reads "The ability of the police to perform their duties is dependent upon public approval of police actions."
Wortman said many of the police shows on TV do not accurately depict police work, and IPM hopes to give the public more accurate insight into the life and work of police officers by providing an opportunity for families and children to view – and even interact with – exhibits covering nearly 150 years of law enforcement history and culture. As stated in IPM's motto, it's not all guns and cuffs.
Items on display currently range from some of the earliest known police uniforms, to equipment such as handcuffs, lie detectors, and early communication devices. Many of the items represent Tillamook County and Oregon.
One example, the "Oregon Boot" was originally designed for a prison project in Salem. Prisoners from the Oregon State Penitentiary were sent to build a new prison there around 1866. The typical ball-and-chain leg restraints were problematic on scaffolding, because if the ball or heavy chain fell off the structure, a prisoner might get trapped dangling from the scaffold.
Designed by Oregon State Penitentiary Warden J.C. Gardner, the Oregon Boot replaced the ball-and-chain with a heavy iron band locked around the ankle, supported on a bracket affixed to one boot or shoe worn by the prisoner. The 26 pound ankle weight still prevented prisoners from moving quickly, but it was less dangerous for construction work.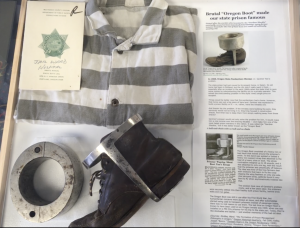 The Oregon Boot at IPM is especially interesting because so few exist today.
"They quit using them in the late 1930s and early 1940s, and most of them went to the smelter during WWII because they needed metal for the war," Wortman said.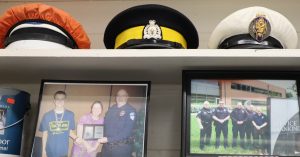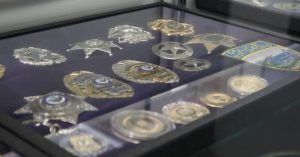 True to its name, the IPM collection also includes items from around the globe, including helmets from Barbados, England, and Canada, among other countries. Wortman's collection contains artifacts from over 167 different countries. Visitors from Canada, England and Japan have also contributed items to the museum.
The breadth of the collection sets IPM apart from other police museums, which usually focus on a specific police agency or a single state, Wortman said.
IPM strives to make displays that make the museum child friendly and educational. Many of the cases house one of the "bear cops" that are part of a museum scavenger hunt. The museum also has a fingerprinting station, where children and their parents can learn to take prints; a police motorcycle ride; and a real jail cell door that offers great photo opportunities. Wortman said many parents have expressed their appreciation for a place that the whole family can enjoy.
IPM moved this year to a space in the back of the Wheeler Treasures Mall store. Wortman said the move was prompted due to a change of ownership of the previous building in Rockaway. The new location seems to have increased the number of visitors stopping in to learn more about police work.
"We've exceeded the number of visitors we had in April and May in 2019, pre-COVID," Wortman said.
Other advantages of the new space include a seven-day operating schedule and extra help with cleaning and sanitizing from the store employees.
"Shopkeeper Peggy Schuman has many great ideas to promote the merchandising of our gift shop. IPM is looking forward to an exciting 2021 in our new location," Wortman said.
He also plans to complete some renovations so the museum can add more displays. He expects the museum's Chamber membership to be of value in that process.
"It is a benefit to be a Chamber member because you have a sounding board, in some cases, for the things we want to do," Wortman said. "The Chamber also keeps us up on things happening in the business world that we might not be tracking as we focus on day-to-day operations."