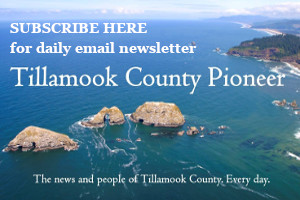 It's back!!! After three years of cancellations the Tillamook Anglers announce the annual Fin Clipping Party at Whiskey Creek Volunteer Fish Hatchery is on this year.
Mark your calendars for Saturday, April 8th to join volunteers at the Whiskey Creek Volunteer Fish Hatchery to clip fins on 100,000 spring chinook. The hatchery is located on Whiskey Creek Road, just a couple miles north of Cape Lookout State Park. No experience is necessary, and adults along with their children can participate. The Tillamook Angler volunteers will teach anyone interested how to clip fins on these young salmon.
The fun begins at 8:30 AM with doughnuts and warm drinks for everyone. The clipping will begin at 9 AM and will continue for a couple of hours. Then at noon the clipping will take a break to enjoy a delicious BBQ lunch hosted by Tillamook Anglers.
After lunch the clipping will restart with the event wrapping up at about 2 PM. All you need to bring is yourself, raingear, waterproof boots and warm clothing. The clipping takes place under cover but as with all fishing water is running to keep the fish alive.
It takes a lot of volunteers to complete this project, so plan on coming out on April 8th and help these salmon on their journey. They will start returning in three years for all of us to enjoy catching.
For more information contact Tillamook Anglers at 503-842-0250.
Here are the Pioneer's stories from 2019 – the 30th annual Fin-Clipping event …

https://www.tillamookcountypioneer.net/tillamook-anglers-30th-annual-fin-clipping-photo-essay-photos-by-don-best/
https://www.tillamookcountypioneer.net/tillamook-anglers-30th-annual-fin-clipping-video-april-13-2019/