By Nancy Webster, North Coast Communities for Watershed Protection
When will our "Dark Waters" be filmed? For those who have seen that 2019 movie, which covered DuPont Chemical Company knowingly dumping industrial wastes that were carcinogens and triggered serious birth defects, you'll understand the reference.
Over 5,000 acres of forestland in Tillamook County are scheduled to be sprayed with a cocktail of chemicals between now and September 30 of this year. The intent is to kill vegetation that might compete with newly planted trees after clearcutting operations. The landowners, in this case Weyerhaeuser, Stimson, and the Oregon Department of Forestry, want young trees to grow as fast as possible without competing vegetation in order to maximize profits.
Pesticides that may be used by themselves or in combination are: clopyralid, aminopyralid, triclopyr, glyphosate, imazapyr, and metsulfuron methyl. Application will be by aerial spraying or backpack/ground spraying.
Herbicides are known to be damaging to human and animal health and can drift into drinking water. In "Dark Waters," DuPont's own records eventually came to light and people who had been harmed won financial settlements…as if money makes up for a loved one's death or disability.
The Oregon Forest Practices Act requires landowners to report upcoming forestry activities to an online system known as FERNS (the Forest Activity Electronic Reporting and Notification System), a publicly accessible information site maintained by the Oregon Department of Forestry.
Most people are not aware of FERNS, and even those who do know of it, find it difficult to use.
(See the spread sheet.)
As to the information it gives on upcoming pesticide applications, it only indicates that the work will take place sometime within a six month period. However, FERNS does provide data that could be used in a future assessment of public health impacts, and perhaps even trigger financial reparations.
According to FERNS, by September 30 over 50 separate pesticide spraying operations will have taken place in Tillamook County. About 80% of these operations will take place on land within the Tillamook Bay watershed; the rest will take place on land that drains directly to the Pacific Ocean or into Nehalem Bay, Nestucca Bay, or Netarts Bay.
People who live or recreate near a spray operation need timely notice so they can protect themselves, their families, and animals. With limited success, North Coast Communities for Watershed Protection has tried to inform the public about spraying operations; however, NCCWP is a volunteer organization with limited funding and therefore does not have the capacity to track all spray operations, does not have reliable access to 24-hour notices, and relies on social and print media to inform the public.
Toxicologists have raised concerns about the pervasive use of chemical pesticides in modern forestry, especially the common practice of mixing several chemicals together to be sprayed. The synergistic effect of these mixtures is unknown.
Aerial spraying of pesticides has had documented effects on rural communities in the Coast Range, most notably in the Triangle Lake area and the Lake Creek watershed in Lane County. Local communities there saw increases in cancer and other illnesses that were linked to industrial pesticide exposure. While residents of these communities are at risk, so are the workers who apply pesticides when backpack/ground spraying methods are used.
However, simply notifying people should not relieve the timber companies of their liability for any harm done to people and the environment.
To see the entire list of sites to be sprayed in Tillamook County, including the landowner, acreage, chemicals to be used, and the method of application, look at the attached spreadsheet and map.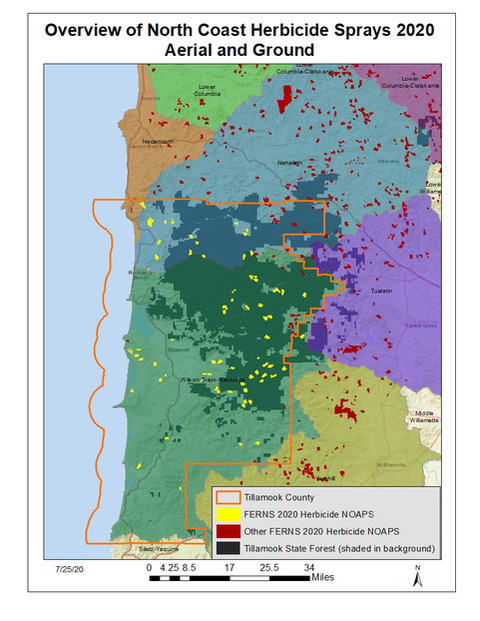 North Coast Communities for Watershed Protection (formerly known as Rockaway Beach Citizens for Watershed Protection), is a grassroots group seeking better protections for the water we drink, the air we breathe, and the forest we love.
www.healthywatershed.org www.facebook.com/NCCWATERSHEDPROTECTION