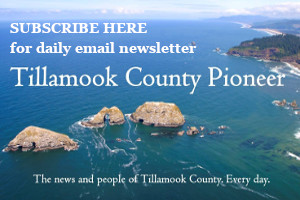 The City of Garibaldi knows how to throw a good party – they've been doing it for over 60 years (62 to be exact.) Here are some photos from the parade by Pioneer photographer Don Backman, and a profile about beloved Garibaldi citizens Joe and Siggi Gierga. What a way to "Seas the Day(s)"!
The City of Garibaldi is honored to recognize Joe and Siggi Gierga as the Grand Marshals for the 2022 Garibaldi Days celebration.
"Joe and Siggi truly exemplifies the special qualities of the many amazing residents who live in Garibaldi," said Mayor Tim Hall. "We are proud to have them to lead off this year's gala parade."
Joe and Siggi have lived in Garibaldi for most of their lives. They came to America in 1960 from Germany. Working for Volkswagen, Joe was on a three-year contract to teach local mechanics how to service and repair Volkswagen cars, which were somewhat new to the USA. He was promoted to a management position and chose to stay. They both have been US citizens since 1965.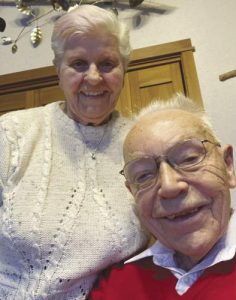 "On a coastal fishing trip, we discovered Garibaldi and fell in love with the little fishing village," says Joe Gierga. "We purchased a lot and built a house."
After giving up his job at Volkswagen in 1972, Joe and Siggi establish "Siggi-G Ocean Charters" in Garibaldi, which they operated for the next 25 years. On a 40-foot charter boat that they had custom built called the Siggi G, they fished commercially for salmon, tuna, and crab.
As an established artist, Siggi also taught painting classes in her studio. Joe later retired from the fishing business to concentrate on his aluminum and stainless steel fabrication business, he once operated to supplement his income during the winter months when the fishing was slow.
Today, at age 91, you can find Joe creating his kinetic art, which he calls "Wind Spinners," in his metal shop located in the Port of Garibaldi. The works of art spinners can be found all around Garibaldi and elsewhere.
Joe and Siggi have been married for 66 years and are well-known and loved in Garibaldi.
This is the 62nd year of this city's traditional celebration.
Highlights from the Parade – by Don Backman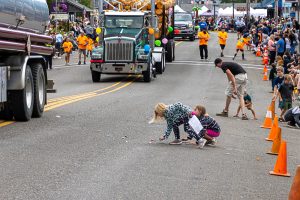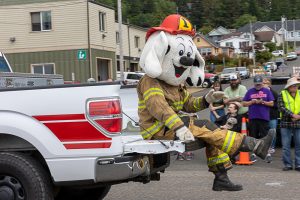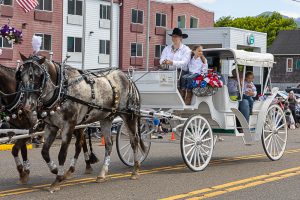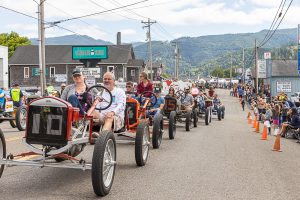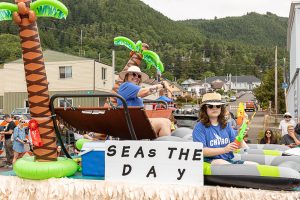 The Water ball competition (the Fire Dept. won this round …)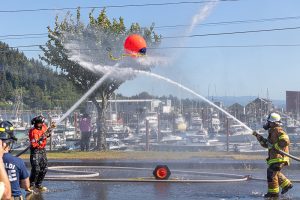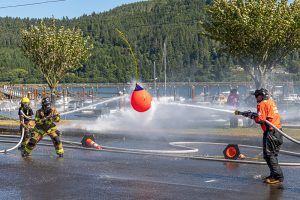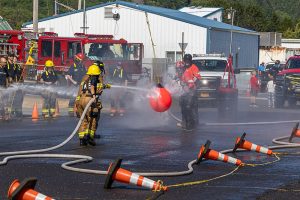 For more of Don's photos – see his website www.donbackmanphoto.com