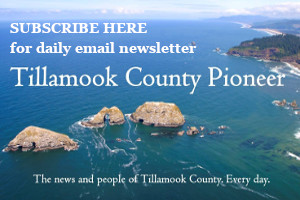 From Tillamook Area Chamber of Commerce:
61st Annual Dairy Parade – begins at 11 am from 11th and Main. Route change … turning on 3rd St. to disband at Goodspeed Park.
You probably remember last year, the parade route was "flipped" to start on 11th and end at Goodspeed Park.
This was a renowned success in terms of getting the highway open to traffic quicker. While we anticipated using the same route this year, we all know and understand that construction in downtown Tillamook and the safety of all parade goers and watchers takes precedence. Previously, after we consulted with Police Chief Terry Wright about our safety concerns, we had changed the route to "job" onto Fourth, then Pacific to Third. CHANGE OF PLANS — the Route will be the same as last year — Main to 3rd Street. So if you're planning to come out and watch the 61st annual June Dairy Parade on June 23rd, same route as last year – down Main to 3rd Street.
Next year (2019), the parade route will change once again as construction in downtown Tillamook will be completed and we will (finally!) be able to route the parade all the way to First Street!