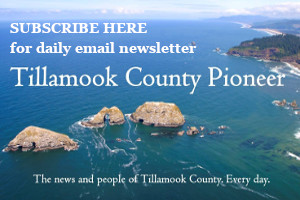 Manzanita, Oregon – On March 14th the Lower Nehalem Watershed Council Speaker Series will feature Katie Voelke for a discussion titled "Conservation Land and Public Access". This topic is current because the North Coast Land Conservancy is working on its biggest project ever: conservation of 3,500 acres of forestland above Oswald West State Park to benefit people, plants, and wildlife. So, in this context, what is the right amount of public access for this property, if any?
Hikers, mountain bikers, hunters, anglers, dog-lovers: recreationists of all kinds are always interested in exploring new territory. But what are the risks and benefits, the pros and cons, of opening up conserved lands to various kinds of recreation? Every human activity, benign as it may seem, has the potential to cause harm. Off-trail and even on-trail travel can lead to erosion. Water sources can be polluted. Seeds embedded in boot soles can spread invasive plant species. Yet typically it is our personal experiences with wild lands that makes us care about them in the first place, and that lead us to work to conserve them.
Join NCLC Executive Director Katie Voelke in an open-ended discussion about how to balance the needs of people, plants, and wildlife in conserved lands on the Oregon Coast.
The discussion will be held at the Pine Grove Community House, 225 Laneda Ave in Manzanita. The program will begin at 7 pm with a brief update from the Lower Nehalem Watershed Council. Katie's discussion will follow at 7:15 pm.
This event is part of the Lower Nehalem Watershed Council's regular Speaker Series. Join us at the Pine Grove Community House each 2nd Thursday in January through May, October and November for natural resource focused presentations. We raffle off a gift certificate or special item from a local business supporter during each event. Raffle tickets will be available for a $5 donation at the door and the winner will be drawn at the end of the presentation. "I ♥ The Nehalem River" bumper stickers will also be available by donation.
Event Information: This event is FREE and open to the public. Find more information on our speaker series on our Facebook page (https://www.facebook.com/lnwc1).
Date & Location: March 14th, 2019 at Pine Grove Community House (225 Laneda Ave, Manzanita)
Time & Agenda:
7:00 PM Council Updates
7:15 PM Presentation
8:30 PM Adjourn