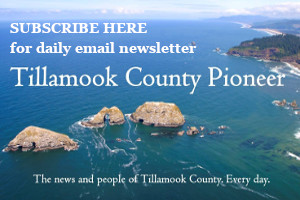 By Brian Cameron, for the Tillamook County Pioneer
Just as we gave some light to the goings on of the Tillamook Republicans last month (link to that article below), it's important to look at the other side of local politics in order to garner a broader understanding of the various ways to look at local, state, and national issues.
We got a chance to have a virtual sit down with Tillamook County Democrats Chair, Fred Bassett, to see what's been going on.
How has the Tillamook Democrats changed over the last few years? What localized topics are you guys focusing on?
The Tillamook County Democratic Central Committee (TillCoDems), consisting of elected Precinct Committee Persons (PCPs) and core volunteers has long been an active part of the political, social, environmental, cultural, and economic landscape in Tillamook County. Although our membership grew dramatically following the election of the previous administration, our mission is unchanged.
Our stated goal to "support and elect Democrats who share and fight for the ideals, values and policies that improve the lives of all Oregonians," while we strive "for civic engagement, and provide access to and transparency in the political process" have been the principals by which those who have served our party for years and those who have just joined us are guided. We are excited about our newest members and celebrate the unwavering commitments of those who have served for years.
It is difficult to pinpoint any one topic that is our focus at any given moment. We are currently teamed with Tillamook Vote Forward, the local chapter of Indivisible and a national voter engagement organization, to encourage participation of candidates and voters for the May 18 special districts election.
We recently held a two-session retreat at which our members let our leadership know the areas, ideas, issues, and events they would like to prioritize. We are in the process of incorporating those ideas not our on-going plans for addressing the well-being of citizens in our county, state and nation.
Our communications committee has been working feverishly over the past several years to update all levels of our information outreach, particularly in the area of our internet and social media presence. Our webpage – TillCoDems.org – and our Facebook page are the best sources of information about TillCoDems' current activities. We have also just started a monthly newsletter, to which people can subscribe through our webpage.
From the perspective of the local Democratic Party, how have social movements like Timber Unity affected party politics?
First of all, let's be honest and clear. Timber Unity is not a social movement. It is very clearly a political movement. A lot of hardworking local citizens have been attracted to its appealing catch phrase, "Standing Up For Working Oregonians." Although it sounds good, and looks pretty good on a yard sign, it fails to inform its followers about the fact that it is not really standing for what many working Oregonians need or hope for in their lives.
I personally am a fifth generation working Oregonian, raised in a family of farmers and loggers. At a very early age I recognized that the things I and my family need so that I feel "supported" are good sustainable jobs, good schools, fair and equal wages, fair and equal taxation, strong unions, affordable quality healthcare, and a healthy environment. Included in this list are some very basic human needs, like clean drinking water and healthy foods that are not poisoned by industrial pollution and waste, and housing that is affordable for all working families.
In every instance, through my entire voting life, it has been Democrats who have been standing up for the things that all Oregonians, and in particular, working Oregonians, want and need.
"We stand for you" slogans will not hold up if they aren't backed by substantiated proof that your movement supports human needs like clean drinking water for working families' homes, or proof that the big corporations funding your movement "stand up" to pay their fair share of taxes for working families' schools, community police and rural fire departments.
We believe Democrats have been on the right track, standing for working families, substantiated in the laws and programs we've created in our state and nation for many decades.
How do you feel about Oregon Governor Kate Brown's handling of the Covid19 Pandemic? How do you feel about the vaccine rollout? What do the Tillamook Democrats think about the entire handling, was it more political or public health oriented?
We, as a community, as a state and as a nation, have never had to deal with anything as deadly, as contagious, or as-wide sweeping in its impacts on our lives, our society and our economy as the Covid 19 pandemic. From the outset, it was clear that there were tough choices to be made. I believe most would agree that Governor Kate Brown has done an exemplary job under dire conditions. If she has errored at any time in her handling of the pandemic, it has always been to error on the side of safety for the citizens of Oregon.
And how has she done? Oregon has continued to be, throughout this entire tragic episode, one of the safest places to be in the United States. One quick look at the facts shows us that Oregon, which ranks 27th in population, ranks 38th in numbers of infections. Compare that to the four other states closest to us in population, Louisiana (25th), Kentucky (26th), Oklahoma (28th), and Connecticut (29th), and you'll find that, in numbers of infections, Louisiana is 23rd, Oklahoma is 24th, Kentucky is 25th, and Connecticut is 31st.
This is not political. It simply takes practical common sense to see that these numbers prove without doubt that Governor Kate Brown, heeding the advice of the Oregon Health Authority and leading world scientists, has saved thousands of lives in Oregon by taking bold, courageous, and often unpopular steps to curb the infection and death rates here.
As far as the vaccine rollout is concerned, any fault in obtaining and distributing vaccines lies directly on the shoulders of the former federal administration. That being said, we are far ahead, in Oregon and in the U.S. in getting vaccines to everyone who understands what a life- saving gift they are.
Recently, Oregon Representative Mike Norman (R-Independence) has been pressured to resign due to his role in allowing protestors into the State Capitol Building on Dec. 21. How do Tillamook Democrats feel about his actions?
Representative Nearman has been fined for the damages done to the State Capitol and he has been removed from committee assignments because of his actions. It's uncertain if further actions will be taken, but we support any action that holds our representatives accountable for their behavior.
Speaking on a national level, how do local Democrats feel about national Democratic Party leadership, and how recent events may change moving forward?
Tillamook County Democrats represent the lowest level of elected officials in the Democratic Party – the Precinct Committee Persons. While these positions are the lowest rung on the Democratic ladder, they are the blades of grass in our grass roots democracy. We Democrats recognize that ours is a big tent. And in that tent are people who range from quite conservative to arch liberal progressives.
We are not, and don't wish to be, a one-size-fits-all, follow-one-ideology-or-hit-the-road political party. Instead, we work to make our communities, our state and our nation a better place for all by sharing ideas, listening and acting through cooperation, not confrontation. Are there things we'd like to change at the Democratic national level? Probably. Are we pleased with everything our national party leadership does? Probably not.
But our work locally has the power to effect changes locally, and by sharing those changes with our regional and state leaders, we can encourage change at those levels, which, in turn, can have impacts on the national level. You've heard of the failed and totally erroneous concept of "trickle-down economics?" It won't ever work. But I like to think of our local efforts as trickle- up politics, and I believe we can have an impact locally, regionally and nationally by working together for positive change right here in Tillamook County.
Do the Tillamook County Democrats have any comments regarding the January 6 Capital attack?
Generally, we were, as was the rest of the nation, in a state of shock over this seditious attack perpetrated by the outgoing federal administration. Most of us are still dumbfounded by the cowardice, complacency, and collaboration of U.S. Senate Republicans in not impeaching Trump.
As we learn, almost daily, about the depths to which those responsible were attacking our seat of government, both in direct actions and in behind the scenes failures to do their jobs to protect our capitol and the people who serve there, we are left with the sickening and very real fear that this could happen again.
Those responsible must be dealt with swiftly and severely and the gaps in our national security that were so abruptly laid open or made apparent must be closed.
How do Tillamook Democrats feel about anonymous forces like Q-Anon, and how they have changed the national political narrative?
Democrats are bewildered and distressed by the whole era of "alternative facts," and outright lies that are now part of our society's information sources. What is most troubling to most of us is the divisiveness that these misguided alternatives to objective and truthful journalism have fostered, leaving very little room for us to simply talk things over and to make good, healthy compromises.
We see this divisiveness in every aspect of our lives, from state and national legislatures that are divided on every vote down party lines, anger, hate, and hostility expressed in our local political campaigns, and the ugliness of signs and flags flying from vehicles on our streets using language that has no purpose other than to inflame an already explosive situation.
Locally, we Democrats have worked to be conscious of what we say to each other in our meetings and in our conversations with our neighbors and fellow community members, regardless of their political views. We try to bring courtesy, curiosity and congeniality back to our communications. In so doing, we attempt to bring clarity and transparency to our actions, and to begin building bridges that will help us all cross these turbulent waters we've created.
What topics of interest, on a local level, are the Tillamook County Democrats focusing on?
Currently, a lot of our efforts have gone into the May 18 Special District Elections to encourage people to get involved in our communities and to encourage citizens to vote in these elections. Many people pass over Special Districts as "not that important," but as they affect our local lives – the water we drink, how we handle sanitation for our communities, the schools our children attend, the protections we have against fires, the availability of transportation services, and how we manage our wonderful port facilities – the people serving on these district boards may have far more impact than those serving in Salem or Washington D.C.
As my response to previous questions make clear, we Tillamook Democrats are also seeking ways to bridge the gap that lies between us and those who look at Democrats as the enemy. We are your neighbors, your friends, and we need to work together to solve very real problems like employment security, affordable workforce housing, quality public education, and so much more. Neither side of this great divide can solve these problems alone, and we can't solve them by shouting insults at each other.
We can only begin to make the changes and the progress we all desire by sitting down and sharing our ideas calmly and courteously, listening to each other and respecting the fact that, in reality we all want the same or very similar things. We just have different ideas on how to get there.
How long have you been the chair of the Tillamook County Democrat Central Committee? Your history with the organization, too.
Although I had attended a few of the TillCoDems Central Committee meetings prior to getting involved, I first became an elected Precinct Committee Person for Cloverdale in the spring of 2016. With my employment history as a journalist, I quickly became involved with TillCoDems Communications Committee serving alternatively as Chair or Vice-Chair for the next several years.
Still serving in that capacity in 2020, I volunteered to accept the appointment as Vice-Chairperson of the Central Committee shortly after that position became vacant. When our current chair stepped down shortly thereafter, I was appointed Chair in June. I was re-elected as Chair during our Central Committee biennial reorganization meeting in late November last year.
Finally, if folks would like to be more involved or learn more information, where can I send them?
The best place to start would be to check out our webpage at TillCoDems.org. By simply traveling around the page you can find out a lot about what interests Democrats in Tillamook County. Everyone is welcome to join our TillCoDems Central Committee meetings which are held on the fourth Thursday of every month at 6 p.m. Unfortunately for the warmth of interpersonal connections that are made at in-person meetings, all of our meetings are currently conducted via Zoom chat.
https://www.tillamookcountypioneer.net/checking-in-with-the-tillamook-republicans/