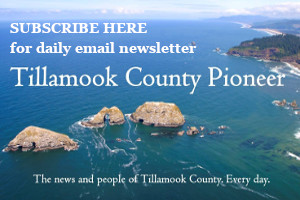 By Laura Swanson
Universal Accessibility – what does that mean?  Sammy's Place, the Oregon COAAST (Communities of All Abilities Succeeding Together) and the Tillamook County Pioneer along with multiple other community sponsors, brought international disability justice activist Keith Jones to the Oregon Coast.  The aim was to begin outreach to community leaders about "universal accessibility" and how we can truly be inclusive for everyone's needs.
A recent example at a local grocery store and a person in a mobility chair was trying to access the frozen food section, but the doors prevented them from getting close enough to the shelves to reach the item they needed, and in fact, the item was too high for them to reach. I offered assistance and suddenly realized how almost impossible most grocery stores are to navigate for anyone with a mobility device.  We can and must do better.
Accessibility allows all to be involved and part of the community. Coastal tourism has been working to provide better access to our outdoor spaces, and one of those tools is the availability of David's Chair, that provides an "all-terrain" chair to provide independent access. Keith was able to explore the beach, explore forest trails, and enjoy a bonfire on the beach. Keith constantly fights adversity as a black, disabled human. Regardless of any label, his message is filled with warmth and humor, but also the reality and tragedy of our ignorance of the needs of others, and to encourage universal design, to recognize humanity and community – which is "common unity."  All together …
Here are some clips from Keith's Universal Accessibility Tour – and his call to action to all communities:
Let us, as a community, engage and hear feedback. Simply changing door handles from a knob to a paddle, zero clearance thresholds, showers with benches with minimal to zero clearance, kitchens with higher toe kicks and multiple counter heights, and floating vanities with angles to allow wheelchair access. When designing new spaces, allow for movement; and sensory issues, softened lightening and sound insulation, quiet spaces or rooms to give people a safe space for a break from crowds. Keith's big message was universal access more than ADA bathrooms and ramps. It's about what does it take to have every individual be able to access your business. And then think about our housing developments, and at home, how can you age in place?
It doesn't require massive, costly changes, but when offering a service, how can you be approachable to everyone in your community?
Here's some inspiration – we introduced Keith with his Emmy-awarding winning theme song in the Rising Phoenix documentary.