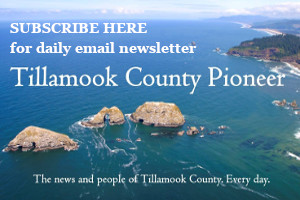 Mark your calendars for the first Saturday in June, and get ready for non-stop fun on the Nehalem Bay!
Can you believe it?!? We are only 5 DAYS away from CRAB DERBY (June 3rd)! Your chance of winning $1,000, is right around the corner! Come on down to the crab party – bring friends, family, neighbors. Many different activities, events, booths, and just a little bit of competition will be going onm all throughout the day.
Scheduled to coincide with Free Fishing Weekend, the Crab Derby is a fundraising event for two local charities – the MuddNick Foundation of Manzanita, OR – whose mission is to broaden the horizons of deserving children in greater Nehalem Bay and North Tillamook County and Animal Haven By The Sea Rescue in Nehalem, OR – dedicated to helping animals that are lost, in distress, in need of a home, food or medical attention and are the only animal rescue in North Tillamook County. Hosted by Kelly's Brighton Marina, this unique event is one of the favorite summer activites for outdoor enthusiasts and families alike!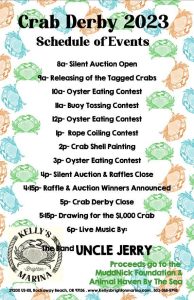 Kelly's Brighton Marina will release 26 tagged crabs on Saturday and a $10 per ticket entry fee is required to participate in the Crab Derby, with proceeds from ticket sales going to the sponsored charities. All captured tagged crabs must be returned to the marina by 5:00pm and a drawing will be held to determine the top prize of $1,000 cash. Live music, games, crafts, many great vendors, raffles, and a wide array of prizes round out an exciting event that we hope will become an annual tradition for all who attend.
An event of this magnitude is not possible without the generosity and support of the entire community.
Volunteers and prizes are always greatly appreciated and we hope that you will consider a donation to this worthy cause. For more information about volunteering or making a donation, contact randi.kellysmarina@gmail.com.
For more about the Crab Derby, follow Kelly's Brighton Marina on Facebook, or go to www.kellysbrightonmarina.com
We are looking forward to having such a fun day with all of you! 🤩
• Kelly's Brighton Marina Summer hours have started as of May 27th •
🦀☀️ Store: 6am-7pm – Cooker: 8am-6pm – Dock: 6am-5pm