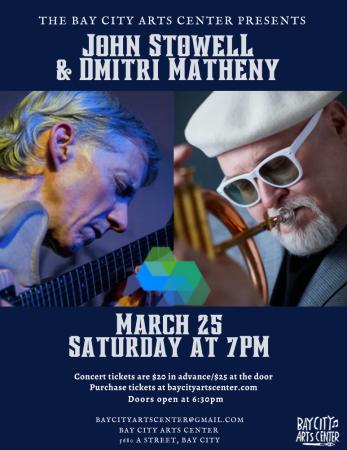 The Oregon King Tides Project dates this season are November 24-26, December 22-24, and January 20-22. Each year, CoastWatch co-coordinates the Oregon King Tides Project with the Oregon Coastal Management Program. This participatory science project invites the public to photograph (safely and from a distance) the reach of the highest tides of the year as they rise into community infrastructure and push into dunes and cliffs. The most helpful photos will document one or more of the following impacts:
Limited beach access (north/south) due to high water
Cliff and bluff erosion from high water
Impacts to natural features (dunes, beaches) as well as hard infrastructure such as roads and seawalls
Of particular value are "photo points"—locations where photos are taken with the same angle and perspective as photos taken during previous king tides, revealing change over time.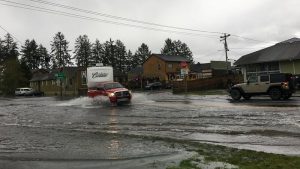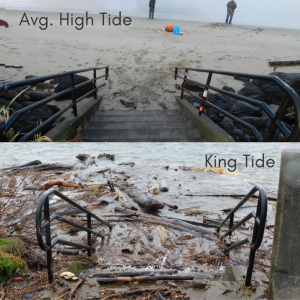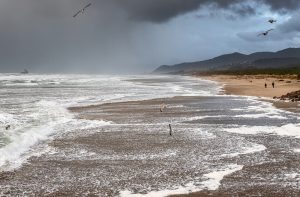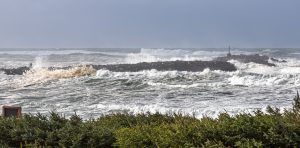 The project is partnering again with the Oregon Coast Visitors Association for a photo contest. Four categories of photos up for prizes: coastal flooding, coastal erosion, waves, and comparison (average high tide vs. king tide). Check tide tables for peak tides, and take photos as close to the tidal peak as possible.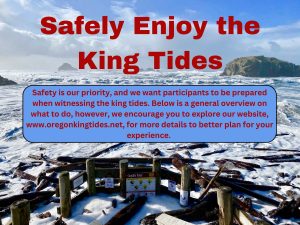 Safety is our priority, and we want participants to be prepared when witnessing the king tides. Below is a general overview on what to do, however, we encourage you to explore our website,
www.oregonkingtides.net
, for more details to better plan for your experience.
1) Dress appropriately. Bring layers for warmth, wear visible colors, and have sturdy shoes for the terrain you will be exploring.
2) Know when the tides are for where you are going. Click on 'Tide Map' on our website to know when you should go.
3) Check the area upon arrival for accessibility and hazards. Many coastal areas change over time and throughout the year. What may be flat terrain one day could have woody debris, slippery slopes, and other obstacles the next day. Respect all safety barriers such as fencing and guardrails.
4) Be aware of the waves as they can come in sets or random sneaker waves. Keep children and pets close at all times. Please fully assess possible risks and if you need to select a different location for your experience.