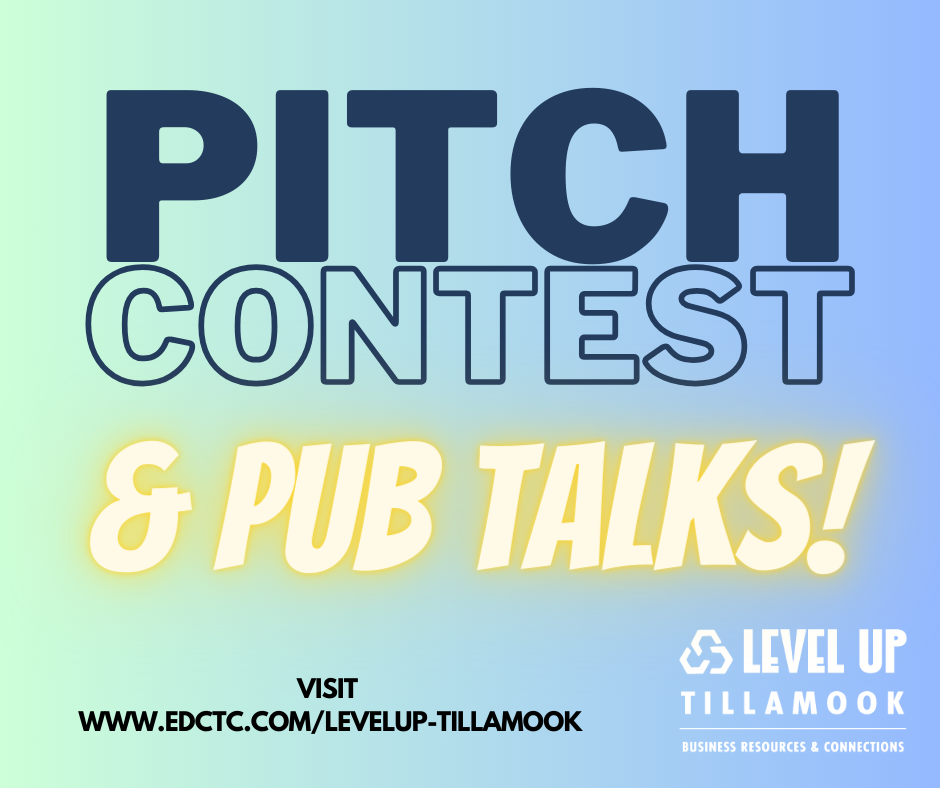 By Judith Yamada, Kitchen Maven
Increasing fiber, vitamins, calcium, anti-oxidants, and protein, in our diets, is a goal most of us share. At the same time, we know it's a good idea to subtract some of that devious salt and seductive sugar.
Adding whole fruits, vegetables and yogurt to smoothies makes for an effortless balanced snack. But what can we do about pumping up the food value of our dinners? I find the evening meal to be the most demanding meal of the day. Maybe it's because I get bored washing vegetables or because I favor most fruits over most veggies. Whatever your personal reason for a lapse in the healthy nutrition department, here are some of my tactics for making value added dinners (and desserts).
1. For best absorption of lycopene, a powerful anti-oxidant found in tomatoes, eat your tomatoes "heated". Eat ripe raw tomatoes with a little olive oil for the same reason. Good sources of heated tomato products are tomato paste, tomato sauce and tomato soup. For a quick tasty last minute marinara sauce, check below.
2. Discover Nutritional Yeast. It's a delicious addition to vegetarian meals, giving dishes a cheesy flavor. It's good added to soups or in a vegan "cheese" sauce, as a substitute for Parmesan on pasta, in scrambled eggs, and fabulous sprinkled over popcorn with a little Tamari sauce. Nutritional yeast imparts a sophisticated flavor that's very umami. It adds B vitamins to food, is vegan, gluten and sugar free and is considered a complete protein.
3. Amino Acids are a great replacement for soy sauce and it makes soups sing.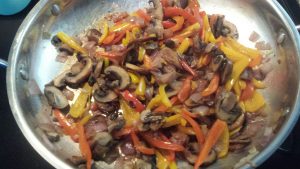 4. Use up those bits of veggies hiding in the refrigerator bin. Coarsely chop or cut about 6-8 cups of vegetables (whatever's in that refrigerator) into a large bowl. Toss them in a few Tablespoons of olive oil and season as you like, using some spices, fresh ground pepper. Some possible vegetable combinations: (yam, greens, red onion, peppers/ carrot, mushrooms, baby bok choy, scallions / tomatoes, eggplant, zucchini, shallots, etc.). Add a fresh herb such as basil, rosemary, cilantro or thyme. Line a metal oven baking pan, evenly, with the oiled and seasoned vegetables. In the same bowl previously used for the vegetables, season 2-3 pounds boneless skinless chicken thighs with 3 Tablespoons nutritional yeast, 1 teaspoon ground turmeric, ¾ teaspoon garlic powder, black pepper to taste, ¾ teaspoon salt, 3-4 Tablespoons olive oil. Mix the chicken, seasoning, oil and vegetables, with clean hands, covering the chicken pieces evenly with the mixture. Top the seasoned vegetables with the seasoned chicken thighs. Bake at 375 degrees F. about 45 minutes. Test meat for doneness. Remove from oven. Cover and allow the chicken to rest for 5 minutes. Squeeze a little fresh lemon juice over all and drizzle with a bit more olive oil. Serves 4-6
5. Experiment with dessert recipes to both simplify the preparation and cut the sugar. If possible, come up with one that will adapt to different flavors. Pies and cobblers are good options. Below, you'll find an original recipe for Honey Lemon Buttermilk Pie with a whole wheat Pat in Pan crust I adapted from King Arthur Flour. Flavor this pie with lemon, lime, orange, vanilla, spice or almond. Change out the honey for real maple syrup or date sugar. Serve with fresh ripe, canned or frozen (defrosted unsweetened) fruit.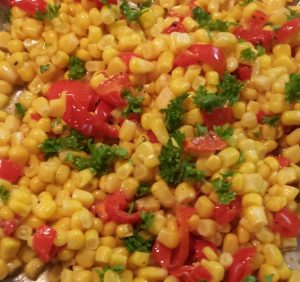 6. Add fresh vegetables to canned veggies. When you have that one lonely can of corn a few scallions and half a red bell pepper in the fridge, or a can of green beans a little kale and one leek or carrot, chop and sauté the fresh, then add in the canned. It'll extend that can of corn and pump up the food value of your veggies.
7. Nuts are good protein add ins. Toast them first. They're especially flavorful in side dishes like couscous, quinoa and brown Basmati rice. My favorite is pine nuts.
I realize that without being really thoughtful, regarding meals, I'd usually opt for simpler and less nutrient rich choices. And this is true for most people I know. Thinking about what's in the pantry, and how we can lift our ingredients to new flavorful, textural and nutritional heights, is the sort of thing working chefs do daily. It does take some creativity and, when it comes to feeding our families, occasional ninja tactics. If you have additional hints for eating healthier while still enjoying your meals, and not breaking the bank, please let me know. I'll share the ideas with all of you in a Kitchen Maven post.
Quick Marinara Sauce
Ingredients:
2 tablespoons extra virgin olive oil
3 to 6 organic garlic cloves
½ – 1-teaspoon sea salt
2-ounces organic tomato paste
14.5 ounces organic diced tomatoes
½ teaspoon freshly ground black pepper
¼ teaspoon crushed red pepper flakes
1-teaspoon raw sugar
1 cup dry red wine (or broth)
2 teaspoons organic dry leaf oregano
1 teaspoon dry marjoram leaf OR 1 teaspoon dry rosemary leaf
Finely chop garlic cloves with sea salt. Heat olive oil in 3 quart saucepan on medium heat until oil begins to ripple. Add garlic and salt. Allow to sizzle about 20 seconds, stirring, until garlic is just golden. Don't allow garlic to get brown. Add all other ingredients; stir and allow sauce to come to a simmer and simmer continually on low heat, uncovered, 20 – 30 minutes. Stir occasionally. Remove from heat. Sauce is ready to serve. Makes about 2 ½ cups sauce.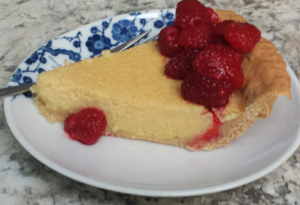 Honey-Lemon Buttermilk Pie
With whole wheat pat in pan crust
This lightly sweet tangy pie can be made in other fresh citrus flavors or in spice or almond flavor. In spice or almond flavors, delete the fruit juice and use 1 full cup buttermilk. Add ½ teaspoon cinnamon, ¼ teaspoon freshly grated nutmeg and 1 teaspoon vanilla extract for spice flavor. For almond, add ½ teaspoon each almond extract and vanilla extract and serve with toasted almond slices. And substitute real maple syrup for the honey, if you like.
Heat oven to 350 degrees F.
9-inch oven safe glass pie pan
2 cups whole-wheat pastry flour (spoon flour into dry cup measure, and level)
½ teaspoon salt
¼ teaspoon baking powder
7 Tablespoons light vegetable oil
¼ cup cold water
Whisk together the dry ingredients in a medium bowl. Whisk together the wet ingredients in a small bowl or measuring cup. Pour the wet mixture over the dry and stir until the dough is moist throughout. Press the dough evenly into a glass pie plate, pressing up the sides and crimping or pressing the top edge with a fork. To make pressing the crust easier, press the pastry with a pie plate sized square of wax paper. Press the bottom and edges smoothly, with the wax paper, pushing from center and up the sides. Refrigerate the crust while preparing the filling.
4 large free-range eggs, lightly beaten
1 Tablespoon whole-wheat pastry flour
2/3 raw local honey
¼ cup fresh lemon juice
¾ cup buttermilk
1/3 cup salted butter, melted
2 teaspoons finely grated lemon zest (yellow only)
Sift 1Tablespoon flour into beaten eggs; whisk in the honey. Stir in the lemon juice and buttermilk. Lastly whisk in the melted butter and zest. Remove piecrust from refrigerator; place it on a sturdy metal baking sheet. Pour the well-mixed filling into the piecrust. Place baking pan on middle rack of oven. Bake for 20 minutes. Carefully, rotate baking pan. Bake another 10 – 15 minutes, until the center has set. It should be a tiny bit jiggly, but not liquid. It will continue cooking while cooling. Allow pie to cool to room temperature (about 1 hour). Cover lightly with wax paper and chill 1 hour. Serve slices with fresh (or canned) unsweetened berries, peaches, melon, apple slices or oranges supreme, pineapple chunks, melon or whatever fruit you have. Serves 8 or more. Keeps well in the refrigerator, covered, about 5 days.