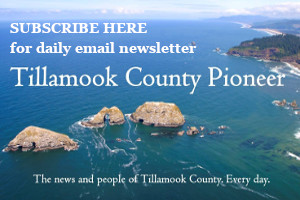 By Judith Yamada, Kitchen Maven
Breakfast is my favorite meal, and my nostalgia meal. I remember Sunday morning breakfasts of fried eggs, bialy rolls or bagels with cream cheese, ham or lox (cold smoked salmon) and tumblers of orange juice. It was quite a morning feast; maybe not the healthiest breakfast, but a once weekly treat. Then, there are the fond memories of Saturday "suppers" when my sister and I were small. Our dad worked late on Saturday evenings, so mom made us silver dollar pancakes from scratch. We slathered them with butter and Log Cabin Syrup. Those were the days. But this sort of "breakfast" isn't quite what most folks go for nowadays, as we lean toward better nutrition and healthier options.
I'm pretty sure we're all aware of the benefits of eating oats, blueberries, yogurt and walnuts. One cup of oats contains a whopping 6 grams of protein, about four grams of fiber (both soluble and insoluble) to help lower cholesterol, stabilize blood glucose levels and improve intestinal health. Let's not forget the variety of minerals in oats, including magnesium, selenium and iron. It's definitely a superior bowl of goodness.
An ounce of walnuts is loaded with antioxidants, has 4 grams of protein and nearly 3 grams of Omega 3 fatty acids, which is an essential type of fat not produced by the body.
Valued for their high levels of antioxidants, blueberries are also a good source of vitamin K and provide vitamin C and fiber. Some nutritionists believe that if we make only one dietary modification it should be to add blueberries to our diets.
Yogurt is produced by bacterial fermentation of milk. It is highly nutritious and a beneficial source of protein, calcium, potassium and probiotics. Probiotics may enhance healthy gut bacteria and prevent digestive problems. Yogurt is best eaten plain (without added sugar), but some naturally sweetened fruity yogurts, containing active bacteria, when eaten with super foods (like those above) can motivate a picky eater to indulge in a power house of healthiness that they might not otherwise want to eat.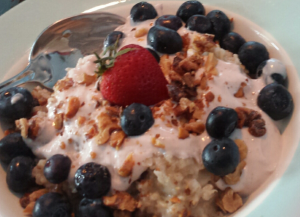 One of my added value breakfasts combines ingredients like amazing oats, fabulous walnuts and magical fresh blueberries with a swirl of fruity Tillamook Farmstead Greek Yogurt for a quick gourmet breakfast parfait that even the kiddos will love. If you like your oatmeal creamy, bring water and oats to a simmer together and continue cooking. For more separate chewier oatmeal, add the oats after the water has come to the boil.
Some things I've learned:
1.The less processed the cereal is the better it is for you. We occasionally buy organic flax raisin bran for a quick breakfast. But Bob's Red Mill Old fashioned Oats or Steel Cut Oats and their Brown Rice Farina (pure comfort food) are less expensive and better for you. Sugar sprinkled over cereal adds no benefits. Decorate that bowl with naturally sweet and crunchy toppings to enjoy a breakfast of varied textures, colors and flavors. Then you won't miss that unscrupulous sugar.
2. Nuts and seeds (unless you're allergic) are a must have in the kitchen. They add protein and texture to lightly sweetened fruit desserts, dips, appetizers, stir-fries and side dishes. They taste great and are a handy snack. In fact, try grinding some up as filler for your meat loaf or meatballs. You'll add protein and avoid those extra breadcrumb carbohydrates. Nuts and seeds are delicious in whole grain bread or brown rice stuffing, and sprinkled over cottage cheese. They're particularly tasty when toasted in a preheated 350 degree F oven for 5 minutes. Or, you can toast them in the microwave for a couple of minutes.
3. If possible, try to have fresh fruit in the house. Fresh apples, oranges and bananas are typically available. And when you can't find any fresh fruit, that calls your name, try frozen fruit. The freezer section, of most stores, carries pint or quart bags of conventional and organic berries, peach slices and pineapple chunks. My favorite, the pineapple chunks, are sweetly delicious and a great snack for kids. A few of those frozen chunks are nourishing and serve as bite sized nutrient rich "Popsicles".
4. Eggs are wholesome, inexpensive and delicious with whatever you serve for breakfast. So increase their value by serving them on whole grain English muffins or sprouted grain toast with sliced avocado, tomatoes, maybe some steamed or grilled asparagus and a few chopped capers. Forego the Hollandaise sauce. Poached eggs are definitely our favorite and they really are fast and easy to prepare, if you follow a few easy rules, read all the directions before you start cooking, and don't get nervous: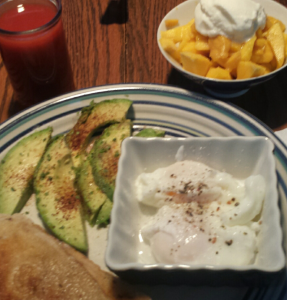 >Carefully break the raw eggs into a small bowl.
>Spray your saucepan or shallow pot with pan spray.
>Add only about 2 inches of water to the pan along with about 1 teaspoon of white vinegar (wine or distilled).
>Add NO salt to the cooking water.
>Bring the water to a boil.
>Slide the eggs carefully into the pan.
>Turn the water down to a simmer (no giant boiling bubbles here)
>Set the timer for 2-3 minutes; meantime baste the eggs with the water.
Remove the eggs, one at a time, with a slotted spoon, while holding a folded paper towel under each egg to soak up the water. Place eggs in serving dishes and sprinkle with pepper, chives or paprika and a pinch of salt. Awesome!
5. If you want a quick delicious 3 ingredient breakfast drink to boost anti-oxidants, potassium, protein and calcium, try a Banana Pomegranate Smoothie: In a blender, combine: 2 bananas, 1 cup organic low fat plain yogurt, 4-6 ounces pure pomegranate juice and 3 ice cubes. Pink, delicious and ready in 3 minutes. 2 servings
Simple, clean ingredients are just as easy to use as packaged and frozen mixes, bars and meals. It just takes a little organization in the kitchen the night before. When we do it ourselves and thoughtfully combine the value of these wholesome foods, we recognize the added benefits we're getting and know exactly what's on our plates.