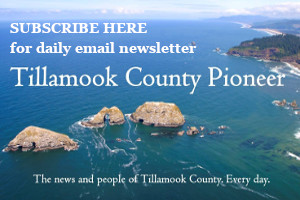 By Judith Yamada, Kitchen Maven
Every Valentine's Day, I prepare a chocolate confection to treat my dear man and celebrate love. If the occasion prompts you to bake something chocolatey to celebrate love – even if it's just love for chocolate – try Chocolate Depression Cake. This is a well-used and well-loved old recipe that became popular during the tough times of the 1930's and through the war times of rationing. Highly likely, over the years, it made many a child smile. In fact, during the past summer of 2022 (when my cookbook was published) a neighbor stopped to chat while I worked the community garden. After telling him about "Thrifty Comfort Cooking for Challenging Times" and that all author royalties go to the Tillamook Food Bank, he quickly proceeded to buy a copy. Later, he told me that the first page he turned to contained the recipe for Depression Cake, and he was thrilled. Seems his mom made that exact cake for him on his birthdays when he was a boy, and he loved the cake.
Times were tough back then, and some foods were unavailable or unaffordable, a situation likewise affecting many people during our currently challenging time. But creative thrifty bakers of the day and of today haven't let that stop them. Although it uses minimal ingredients (no milk, butter, or eggs) Depression Chocolate Cake is still a great tasting, frugal, recipe your loved ones will enjoy. Super-fast to prepare, you can spruce it up if you like. So, I'm also including a recipe for a simple chocolate ganache.
And if you're looking for a delicious gluten free chocolate cake, that takes around 5 minutes to get into the baking pan, try this cocoa almond cake made entirely with blanched almond flour with eggs for lift. It's lightly sweetened, moist and great with a sprinkling of powdered sugar and a dollops of cream, berries or cherries. Happy Valentine's Day and love to all!
Depression Cake (AKA: Wacky Cake)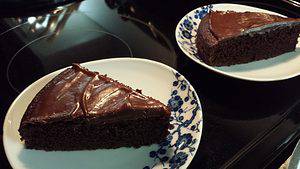 Preheat oven to 350 degrees F. Lightly spray or oil only the bottom of an 8-inch square cake pan or 9-inch round cake pan.
1 1/3 cups whole wheat pastry flour
OR white whole wheat flour
OR all-purpose flour
¾ cup sugar
½ cup unsweetened baking cocoa
1 teaspoon baking soda
½ teaspoon salt
1/3 cup vegetable oil
1 teaspoon vanilla extract
½ teaspoon ground cinnamon (optional)
1 Tablespoon cider vinegar OR white vinegar
1 cup cold coffee OR cold water
Sift together the dry ingredients into a medium bowl. If you don't have a flour sifter, use a fine metal strainer. Sifting the dry ingredients helps make the cake light.
Combine the wet ingredients in a small bowl or pint liquid measuring cup. Stir well to combine. Then immediately pour liquid over the dry ingredients. Whisk or stir to combine, just until no dry ingredients show. Pour batter into prepared pan. Bake in preheated oven 25-30 minutes. Test with cake tester or toothpick after 25 minutes. Only a few crumbs should cling. Allow cake to cool completely on a cooling rack (one to two hours) before cutting.
Historical Recipe/Original Source Unknown
QUICK GANACHE
For those special times when chocolate is abundant. Combine with fresh strawberries for a quick delicious dessert or use to frost that Depression Cake. Lovely as a shiny dark chocolate glaze or whipped until it becomes a fluffy mock buttercream. So easy too.
8-9 ounces dark chocolate coarsely chopped.
Pinch of salt
½ cup cream OR evaporated milk OR half & half OR cashew milk OR coconut milk
1 teaspoon vanilla extract
Place chopped chocolate and salt into a medium bowl. Heat cream or milk in a saucepan over medium heat until it just starts to simmer and is quite hot, but not boiling. Remove pan from heat and pour the cream over the chopped chocolate. Stir until the chocolate melts completely. Add the vanilla extract. Stir again, then allow ganache to cool and set up. It will thicken as it cools and can be poured over a cake or spread on one. For fluffy frosting, beat the cooled ganache with an electric mixer until it looks like chocolate buttercream, and spread.
Cocoa Almond Flour Cake
This is a moist tasty and quite chocolatey cake. Low in sugar, it's high in protein and gluten free. Takes about 5 minutes from measuring to panning.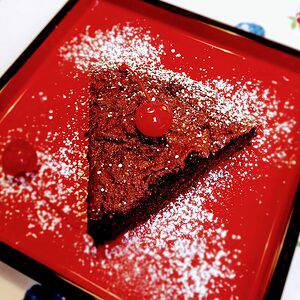 One 8" nonstick cake pan or 9" glass or ceramic pie pan, well buttered
Preheat oven for 325 degrees F. Set oven rack to middle position.
1 Tablespoon soft butter or margarine, for pan
4 large eggs
½ cup real maple syrup or honey
2 teaspoons vanilla extract
½ teaspoon almond extract
1 cup blanched almond flour – (measure flour by spooning into measuring cup and leveling. Don't pack)
½ cup natural unsweetened cocoa powder
¼ teaspoon kosher salt
½ teaspoon baking powder
½ teaspoon baking soda
Butter pan. Preheat oven to 325 degrees F. In a large bowl, whisk eggs for at least one full minute, until they are quite frothy. Whisk in the maple syrup and extracts for one additional minute. In a smaller bowl, combine blanched almond flour, natural unsweetened cocoa powder and kosher salt. Whisk to combine. Add dry mixture to wet ingredients, whisking well. Sprinkle baking powder and baking soda overall and whisk in completely but gently. Scrape batter (it will be thin) into prepared pan.
Bake in preheated oven around 30 minutes or until cake tester, poked into center of cake comes out almost entirely clean. Cool at least 30 minutes on cooling rack. Top with confectioners' sugar, whipped cream or fruit. Adapted from: https://healthyrecipeblogs.com
https://www.facebook.com/Creativepenandpantry/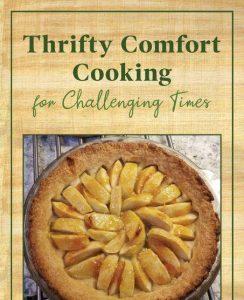 And, if you're looking for a perfect Valentine's Day gift for that aspiring cook you know and love, "Thrifty Comfort Cooking for Challenging Times" contains over 100 eclectic, thrifty and easy recipes that cook will love. For sale online through Amazon.com and Barnes&Noble.com. And all author royalties on 100% of retail sales go to the Oregon Food Bank, Tillamook Services to help folks experiencing food insecurity. "
Amazon.com: Thrifty Comfort Cooking for Challenging Times: 9780578310763: Berman-Yamada, Judith, Berman-Yamada, Judith: Books
Thrifty Comfort Cooking for Challenging Times by Judith Berman-Yamada, Paperback | Barnes & Noble® (barnesandnoble.com)