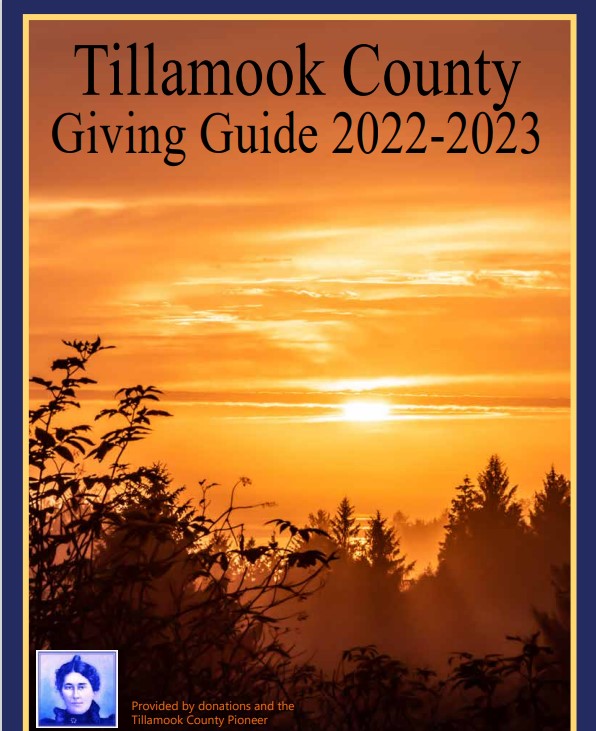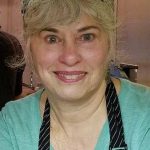 By Judith Yamada
March is "National Nutrition Month". The annual education and information campaign is sponsored by the Academy of Nutrition and Dietetics.  According to the Academy, the benefits of healthy eating add up over time, bite by bite, little by little. Small dietary changes do make a difference that can improve our health.
I remember, prior to the pandemic, eating way too much butter, white bread, fried food, and sweets, gaining weight, and feeling sick in the process. During the pandemic, all that changed; no more restaurants meant home cooked food became a requirement every day. Staying healthy with a strong immune system was a necessity I took seriously, and eating healthy food became my way of life.
Some highly nourishing and delicious foods are also high in calories, so I avoided them in the past. But I've amended my unwise eating habits and now regularly enjoy tasty avocados, pistachios, dried fruits, olives, and eggs – and the list goes on. Switching to a more nutritious diet not only improved my health, but my outlook as well.
For an improved diet, you might try omitting "carnival" food from your menu, as I did. Most of us know carnival food quite well. It's low in actual nutrition including protein, low in fiber, high in empty calories and fat and often loaded with sugar. Of course, all foods are okay in moderation (I love elephant ears) but they're not something to live on, because one can't survive on food that has little nutritional value. One may gain weight on such foods, but the carnival diet is unhealthy and can lead to various forms of malnutrition.
Focusing on nutritious food we love can help keep us healthy. To learn more about The Academy of Nutrition and Dietetics, be sure to visit the website at National Nutrition Month (eatright.org)  And to learn more about healthy eating on a budget, check out Healthy Eating on a Budget | MyPlate through the USDA.
For a couple of easy, nourishing recipes from my soon to be released cookbook "Thrifty Comfort Cooking for Challenging Times", please read on.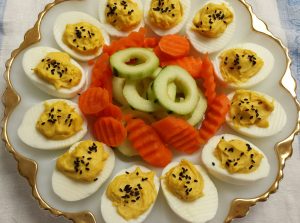 Tailgate Wasabi Deviled Eggs
This zesty, spicy recipe is homage to a certain football team on game day. If you don't have black sesame, you can top these any way you like. Try paprika, olive or pickle slices, chopped bell pepper or pickled jalapeno, for example. And who doesn't like deviled eggs?
12 large eggs
1/3 cup light mayonnaise
1 teaspoon Dijon mustard
1 teaspoon seasoned rice vinegar OR 1 teaspoon white vinegar + a large pinch granulated sugar
¼ teaspoon kosher salt
1 teaspoon Worcestershire sauce
¼ – ½ teaspoon hot sauce
1 ¼ teaspoons prepared wasabi paste (available in "Asian Foods" section of groceries)
¼ teaspoon curry powder
¼- ½ teaspoon ground turmeric
1 – 2 Tablespoons low fat buttermilk, as needed
Black sesame seed OR ground kelp OR paprika, OR olive slices, optional
Hard boil the eggs as usual; drain and set in cold water to completely cool. Carefully peel and refrigerate until ready to use. When ready, halve eggs lengthwise. Scoop the yolks from the whites being careful not to tear the whites. Set the whites aside on a plate or tray. Mash the yolks with a fork. Add the mayonnaise and mustard; beat smooth with a hand mixer or whisk. Combine vinegar, salt, Worcestershire, hot sauce, wasabi, vinegar mixture, curry powder and turmeric to the egg yolk mixture.  Beat just until combined and smooth. Stir or beat in the buttermilk, as needed, for proper filling texture.
Spoon mixture into a pastry bag fitted with an open oversized tip and swirl a bit of yolk mixture into each egg white half. Alternately, evenly spoon filling into the egg whites, using two teaspoons, swirling tops with the back of a small spoon. Cover and refrigerate until serving.
Just before serving, sprinkle deviled eggs with a little black sesame seed, if using. 12 servings/2 deviled eggs per serving. Refrigerate, and serve up to two days after preparation.
Original: Kitchen Maven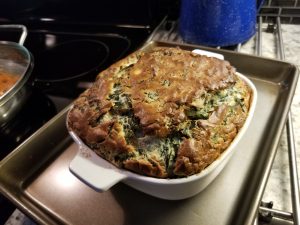 Light Spinach Soufflé
I remember loving the spinach soufflé my mother bought from the refrigerated section of the supermarket. This tasty recipe, based on everyday ingredients, is a good imitation and is reasonably healthy. Who knew a soufflé could be so easy?
Cooking spray
2 Tablespoons Panko breadcrumbs OR any dry breadcrumbs
10 ounces frozen chopped spinach, defrosted and squeezed of all extra water
2 Tablespoons whole-wheat pastry flour OR all-purpose flour
1/8 teaspoon EACH salt, ground nutmeg, garlic powder, onion powder and fresh ground black pepper
¾ cup low fat milk
½ cup Feta cheese OR reduced fat Feta cheese, well crumbled OR ½ cup grated Parmesan
3 large eggs, whites and yolks separated.
¼ teaspoon cream of tartar
Place a flat metal baking pan in oven on center rack to heat. Preheat oven to 375 F.
Spray inside of 1 ½ quart soufflé / baking dish or casserole, liberally with pan spray. Coat the inside of the soufflé dish completely with the Panko breadcrumbs, turning the dish to distribute the crumbs evenly. Set prepared baking dish aside.
Combine flour and all seasoning ingredients through the black pepper in a 1-quart saucepan. Whisk to combine. Gradually, whisk in all the milk. Heat at medium-to-medium high temperature, whisking constantly until mixture gets bubbly and thickens, about 2 minutes. Remove from heat.
Spoon the flour mixture into a large bowl. Let stand for 10 minutes to cool. When cooled, stir in the squeezed dry spinach, the egg yolks and the cheese until well mixed.
Egg whites and cream of tartar go into mixing bowl to be beaten. Let stand at room temperature for 10 minutes before beating. Beat the egg whites until peaks form; don't over beat or they'll be too dry. Gently stir 1/3 of the beaten egg whites into the flour/cheese mixture. Then gently fold in the remaining beaten egg whites.
Carefully turn the mixture into the prepared baking dish. Tap the filled dish on the counter a couple of times to level the contents. Place the soufflé into the preheated oven on the preheated hot metal pan. Close the oven and don't open it, even to peak, for 35 minutes. Turn on your oven light if you need to look. When done, soufflé should be puffed up, lightly browned and just a tiny bit wobbly.
Serve immediately. It will go flat sitting around. Serves 4-6
Adapted from original: Jamie Geller