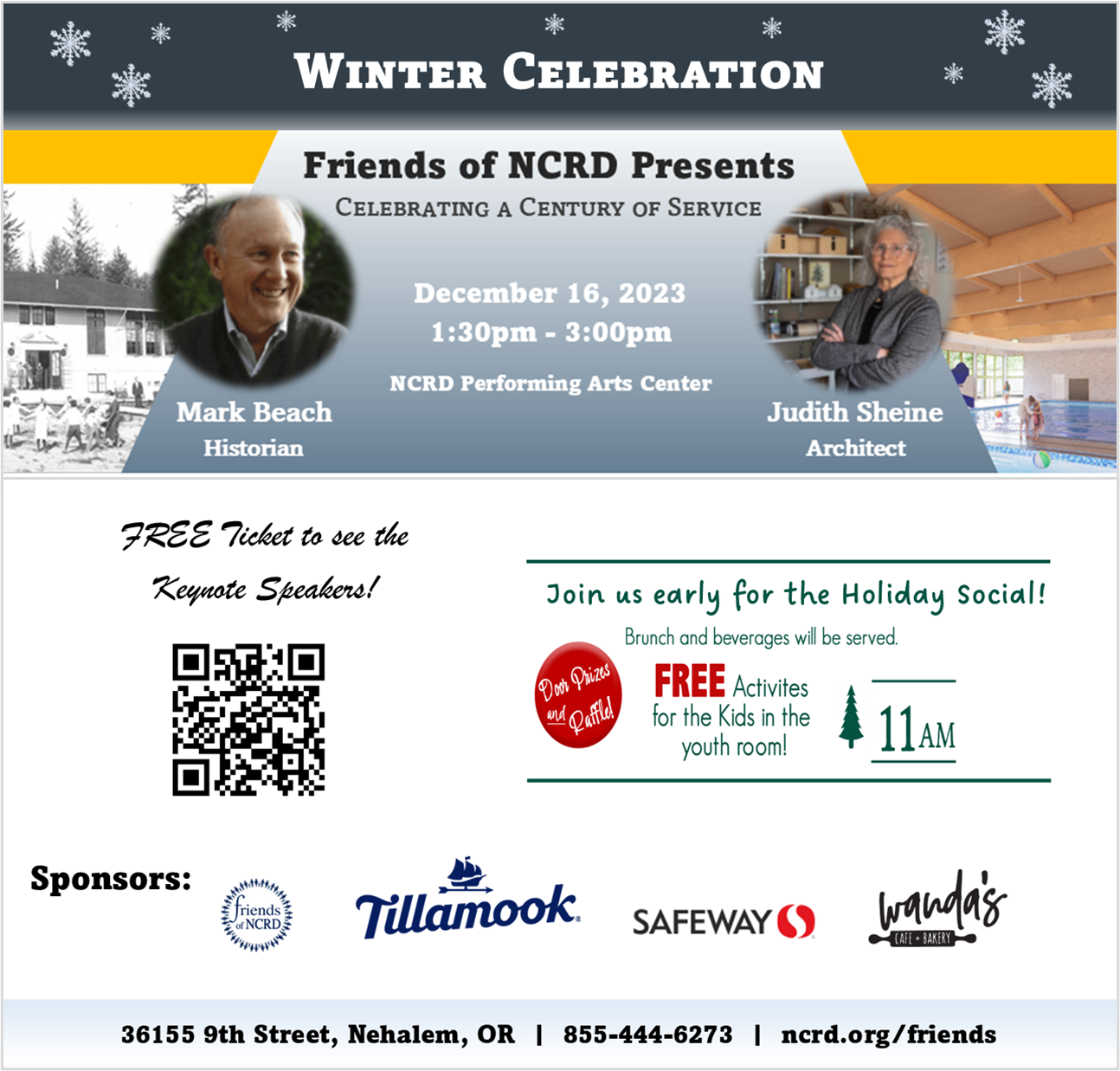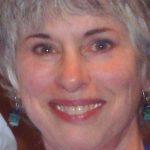 By Judith Yamada, The Kitchen Maven
On New Year's Day, 2022, we'll have dinner guests, and I will spend a good part of my day focused on cooking a beautiful beef brisket (I bought through Food Roots) and all the trimmings. So, I'm taking it easy on New Year's Eve. No need for any of us to work our fingers to the bone. We can all present a festive smorgasbord of NYE deliciousness or contribute to a holiday gathering with minimal work.
Whether you are planning a small gathering of a few close buddies at your home this New Year's Eve, have been invited to spend the evening safely celebrating with family or friends elsewhere or prefer the cozy quiet of a stellar movie and cuddling with your significant other, snacks will be a definite requirement.
Hubby and I will take the cozy couch potato route, play Wii, watch a flick and snack on seafood. Since just the two of us will be here this NYE, the snacks will be simple, and some will be premade.
We'll dine on smoked oysters, pickled herring, and Dungeness crab dip along with Cheddar gougeres, goat cheese, assorted crackers, and raw and pickled veggies. We plan to stick with wine, but a wine Sangria or fresh fruit filled non-alcoholic punch would complement the food just as well.
Here are a few of the recipes I plan to prepare. Maybe, you'd like to try them too.
Happy New Year!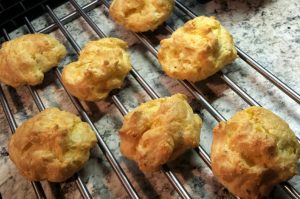 Cheddar Cheese Puffs (Gougeres)
These are fun to both prepare and eat. And the ingredients couldn't be more basic. This is a savory version of cream puffs. And once you get the knack of stirring in those eggs, it comes together like a charm. Try them with soup or salad or alongside a glass of wine or iced tea. Anyone who likes cheese will love these.
½ cup butter
1 cup water
½ teaspoon salt
1 cup all purpose flour
4 large eggs
1 cup (4 ounces) grated sharp Cheddar cheese
2 teaspoons chopped fresh thyme OR snipped fresh chives
Fresh ground black pepper
Preheat oven to 425 F.
Butter a 12 x 15 inch baking sheet (not spray) or line the baking sheet with parchment.
Bring the butter, water and salt, to a boil, in a medium saucepan over high heat.
Remove pan from heat.
Add the flour all at once and stir rapidly with a wooden spoon.
The mixture will form a ball that will pull away from the sides of the pan.
Add the eggs, one at a time, stirring well after each addition, until the eggs are incorporated into the dough and the dough is no longer slippery.
Stir in the grated cheese, the thyme and a few grinds of pepper.
Place rounded Tablespoons of dough, evenly spaced, on buttered or parchment lined pan, at least one inch apart.
Bake for 10 minutes. Lower heat to 350 F. and bake for another 15-20 minutes until puffed and lightly golden. Makes about 2 dozen puffs. Leftovers may be crisped up by reheating in a 300 F. oven for 10 minutes.
Adapted from original: Simply Recipes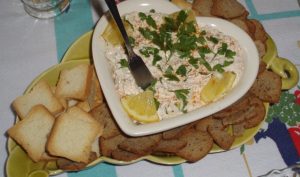 Louisiana Crab Dip a la Oregon
Serve a bowl of this zesty dip, on a plate, surrounded with crackers.
12 ounces light cream cheese, softened
3 Tablespoons prepared horseradish
3 Tablespoons finely chopped fresh parsley, divided
1 ½ Tablespoons coarse mustard
2 teaspoons hot pepper sauce
1 teaspoon fresh lemon juice
¾ cup light sour cream
1½ cups lump Dungeness crabmeat
1 T. finely chopped fresh parsley
Beat the softened cheese with a rotary beater or whisk for 2 minutes or until creamy. Add horseradish, 2 Tablespoons parsley, mustard, hot pepper sauce and lemon juice, and beat 1 additional minute. With a flexible spatula, fold in the light sour cream. Carefully fold in crabmeat. Scrape dip into a 3-4 cup serving bowl. Sprinkle top with parsley. Refrigerate at least 30 minutes.
Original: Kitchen Maven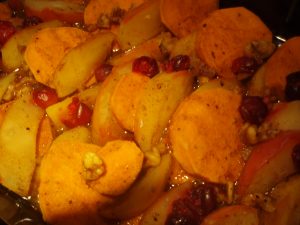 Spiced Yams & Apples with Walnuts & Cranberries
(Gluten free and vegan or vegetarian)
People seem forever looking for a better sweet potato or yam recipe; something simple and wholesome (sans marshmallows – please) yet lovely to look at and even better if it's filled with both nutrition and flavor. Try this original recipe for spiced scalloped apples and yams (sweet potatoes) with toasted walnuts and Oregon cranberries. It takes about 10 minutes to prep and bakes without any checking and fussing. It makes an attractive (inexpensive) presentation for a special occasion, and you'll be delighted with the simplicity and the taste.
1 Tablespoon salted butter or vegan margarine, for baking pan
2 or 3 medium Oregon garnet yams or sweet potatoes, peeled and sliced in ½ inch thick slices
3 or 4 large Oregon apples (two types if possible: (Fuji, Pink Lady, Golden Delicious), cored, partly peeled (in strips) and sliced in ¾ inch thick slices
¾ cup walnut chunks
½ cup raw Oregon cranberries – unsweetened (fresh or frozen)
¼ cup salted butter OR vegan margarine, melted
1/3 cup real maple syrup OR honey
½ teaspoon ground cinnamon
½ teaspoon freshly ground black pepper
¼ teaspoon salt
¼ teaspoon nutmeg, freshly grated
¼ teaspoon ground cardamom OR ground coriander
Generously grease a 9" x 13" oven safe glass or ceramic baking pan with butter or vegan margarine. Preheat oven to 375º F. Place oven rack in center position
Alternate yam and apple slices (scallop) decoratively, in rows, in prepared baking pan
Sprinkle walnuts and cranberries over yams and apples:
In the saucepan used to melt the butter, combine the butter with maple syrup (or honey) cinnamon, black pepper, salt, nutmeg and cardamom (or coriander). Pour syrup or honey mixture evenly over all in the baking dish.
Bake, covered with foil, at 375 F. for around 35 – 45 minutes. Remove from oven; uncover and serve. This is healthy, colorful and almost like eating dessert. A good side dish with poultry, pork, bean and rice herb pilaf or stuffed winter squash. Serves 4.
Original: Kitchen Maven